Raquel Peña: social peace is the Dominican Republic's most important asset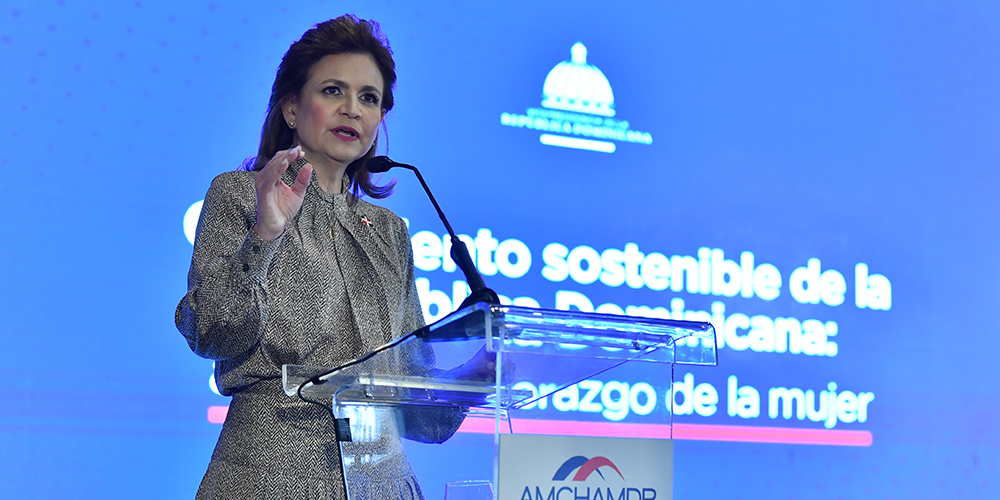 Vice President Raquel Peña affirmed that the increase in investments and the confidence that the business sector has shown in the country are proof of faith in the Government headed by Luis Abinader because it guarantees a favorable climate for safe, reliable, and profitable investments. "The important thing is not only what we achieve in the time that we are governing, but how we are preparing the country so that it continues to grow and develop with foundations of institutionality, transparency, and continuity of the State," she stressed when participating as a guest speaker at the Monthly Lunch of the American Chamber of Commerce (Amchamdr).
"In more than 30 months of President Abinader's administration, although great historical challenges and inequality persist, the economy has achieved a surprising recovery and, as our president has already said: if we have achieved all this in adverse times and challenges, imagine what we will achieve in the years to come. Together, let's take advantage of the window that President Luis Abinader has opened and the opportunities offered to become the best country to invest in and live in," she said. Raquel Peña pointed out that the private sector recognizes which investment development areas are needed and which are more attractive. "We are here to facilitate and accelerate, within the legal framework, these investments," she urged the businessmen.
The vice president highlighted the importance of maintaining the social peace that the Dominican Republic has had and that has generated confidence in national and foreign investors. "This social peace is planted in the conscience of national and foreign investors and due to this social peace, investors have the Dominican Republic among the small and decreasing number of countries in which they can believe. A Republic, that, until now, has not opened its doors to extreme political ideologies and poses. Neither from the left nor from the right, "she stressed. In this sense, the vice president called attention to the need for the country to remain united in the face of crucial issues such as the Haitian crisis.