Lack of water trucks to quell Jarabacoa landfill fire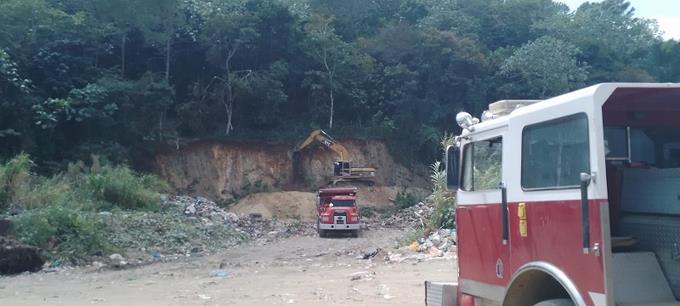 Jarabacoa
The quelling of the fire at the Jaraboca landfill is being delayed due to the insufficient number of water supply trucks, according to the colonel of the fire department of this municipality, Pablo Joel Pimentel.
"Unfortunately, we have not been able to advance more from there because we are lacking water supply trucks, we are working three tankers, they are not enough," said Pimentel.
The colonel explained that the extinguishing method they use is to remove the hot garbage with the backhoe, removing it and cooling it with water, but "with the amount of water they are handling, they will not advance."
"This method works, but with a constant flow of water," said Joel Pimentel.
According to the colonel, in the southern part, materials such as clay and earth are being poured to carry out the suffocation method of extinction, that is, by isolating the oxygen in the burning garbage.
Likewise, there is no estimated date for the cease of the fire. Still, according to information, the fire may extend for another week due to the delay in the arrival of heavy equipment.
"I think it is not prudent to say a day, because the resources only began to arrive today. We thought it would be over by tomorrow, but the southern part caught fire last night," said Pablo Joel.
He said the equipment had been requested since the first day of the fire, but only today, six days later, did they arrive.
Two fire departments, from Jarabacoa and Buena Vista, are working at the site—also, collaborators from the town hall.
Pablo Joel Pimentel explained that it is still impossible to establish if the fire was arson or if the landfill was self-combusted. However, the National Environmental Protection Service (Senpa) is investigating.