Basic basket food prices continue to rise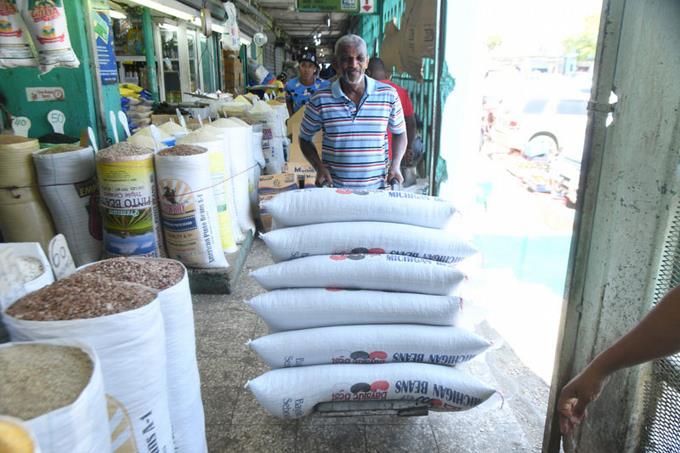 The main foods in the basic basket have experienced another price increase, depending on the products, according to the merchants in the Santo Domingo markets. Vendors from the market on Duarte Avenue and Villa Consuelo expressed that the prices that have increased the most have been those of rice, sugar, bananas, cassava, and eggs, among others. They reported that they have been forced to raise prices because they buy the most expensive food; afraid of losing customers, but are shocked by the high costs. Vendors from the Duarte market, such as Fausto and Bienvenido, indicated that the sack of rice rose last week from 100 to 150 pesos more, causing a rise in prices for customers of these businesses, who must pay between 27 and 30 pesos to purchase a pound of it.
However, what was truly "alarming" to them was the increase in sugar, which rose to 300 pesos a sack. "It's a chain. Everything went up and when you get 300 pesos, you have to raise 5 to the pound and the housewives are screaming," said Bienvenido, one of the merchants. He added that "that is why sometimes we don't know what to do because the sellers come and tell you 'buy it now that it will go up', so you force yourself to order it." Likewise, the merchants of Villa Consuelo reaffirmed their concern about the exuberant increase in the prices of these foods that are part of the basic basket, which have been like this since last week, according to what they commented.
For other food, mainly plantains and cassava, complaints were immediately felt, not only by customers who exclaimed "they are expensive, but you have to buy them," but also by merchants, who stated that every day they must acquire more expensive. With notable bewilderment, they indicated in both markets that cassava had increased scandalously, reaching a price of 30 pesos a pound when a few weeks ago they were buying it from 20 to 25 pesos.