Juan Soto to the fans: "My people, thank you for everything"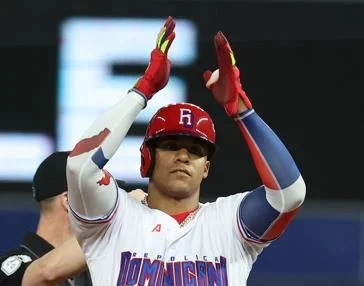 "My people, thank you for everything, thank you for always being there, and thank you for all those prayers, at the end of the day they always come," were the words of gratitude from slugger Juan Soto after being eliminated by Puerto Rico 5-2. Regarding the game, the Dominican outfielder said that "things didn't turn out the way we wanted, but in the end, we had a nice experience. Maybe we'll see each other next time (referring to the next World Classic that takes place every four years)".
"At the end of the day, I am always happy to represent my country (Dominican Republic) and see how there were so many flags in the stadium and as they always supported us in every pitch, in every hit, they were always there. I feel happy. I will always thank the country and the tremendous experience", said the Dominican baseball player. Likewise, the San Diego Padres player recognized the quality of play of Venezuela and Puerto Rico during the international tournament: "They played tremendous ball and, sometimes, you have to take off your cap and recognize what they have done."
"For me, it was a defeat, but it was also a great learning experience, seeing the quality of the player and how we played for the following years," said the player. The Dominicans finished with a 2-2 mark and placed their record in elimination games at 3-4 in their five appearances in the World Cup. It was the second time that the Dominican Republic was eliminated in the first round of the tournament. In 2009, the Dominican team finished with a 1-2 record.