Ministry of Agriculture begins to implement measures to mitigate water drought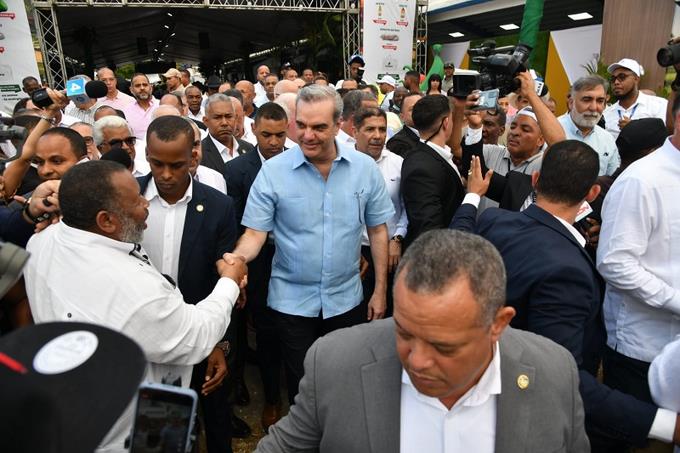 Luis Abinader upon his arrival to the activity. Photo: Glauco Moquete / LD.
Santo Domingo, DR
Due to the drinking water drought in which the country finds itself, the Ministry of Agriculture began to apply various measures to mitigate the drought and ensure that agricultural products are not affected.
Limber Cruz, head of this Ministry, pointed out that feed bales have been sent to different livestock, well-drilling machines, water trucks, and gallons of fuel so that the machinery can continue to extract water from the subsoil.
Agricultural Fair
Cruz's statements were made during the official inauguration of the National Agricultural Fair 2023, dedicated to President Luis Abinader, who headed the activity.
Because of this, an exhibition was held in recognition of his "unconditional support" to the country's productive sector, where the best of Dominican agriculture was exhibited and will be extended until Sunday, March 26.
The opening speech was given by Mr. José Manuel Mallen, president of the institution, who highlighted the importance of the agricultural sector for the economy.
"The great progress we have achieved with meat exports to the United States, as well as the levels of efficiency reached by Dominican producers, require unity as a guarantee of consensus building in times characterized by uncertainty," he said.
In this sense, Mallen highlighted the importance of the union of efforts among all the sectors involved in the country's food chain.
The opening of the National Agricultural Fair was attended by various personalities from the public and private agricultural sector, headed by the Minister of Agriculture, Limber Cruz, as well as representatives of the agribusiness sector, international organizations, special guests, directors of the National Cattle Raisers Board, the queen of the fair, exhibitors, breeders and the general public.
For the first time, the agricultural and livestock event resulted from a public-private partnership with the Association of Industries of the Dominican Republic (AIRD) and its NUVI plan, which seeks to create a culture of reduction, recycling, and use of plastic waste.
Activities
The Agricultural Fair will be open until Sunday 26th of this month, with an extensive and innovative program of activities, including exhibition and judging of animals of the main species and breeds in the country, equestrian sports such as rodeo, dressage, and reining; cheese contest, family sweets; technical talks about the different topics of agricultural work to show and disseminate the latest advances in scientific knowledge and every night there will be great artistic performances for the enjoyment of the general public.