Abinader begins work schedule with Portuguese President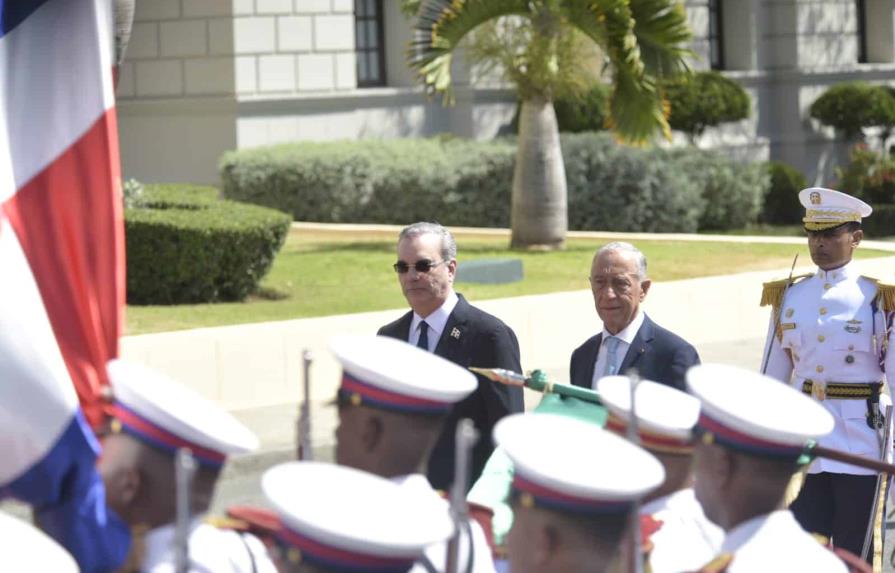 President Luis Abinader and Vice President Raquel Peña welcomed Portuguese President Marcelo Rebelo de Sousa at the National Palace with military honors on the eve of the XXVIII Ibero-American Summit. Rebelo de Sousa arrived at the Government House at 10:20 am and was greeted by Abinader with 21 artillery salutes and the playing of the National Anthem and Portugal's anthem. Afterward, the presidents introduced the delegation members who accompanied them.
On the Dominican side, the president was accompanied by the ministers of Foreign Affairs, Tourism, Industry and Commerce, the Presidency, Energy and Mines, and Higher Education. The Portuguese delegation included the Minister of Business, the head of the Civil House, the president's military adviser, and the international consultant, among others. Rebelo De Sausa arrived in the Dominican Republic on Wednesday night and was received by the Dominican Minister of Foreign Affairs, Roberto Álvarez.
In addition to Rebelo de Sousa's visit, the President of Honduras, Xiomara Castro, also arrived in the country. After the audience with Abinader and a document-signing ceremony, there will be an act of awarding decorations, followed by a joint declaration in the Hall of Ambassadors. The two delegations will have an extended meeting in the Governing Council Room.
The visit will conclude with lunch in the Banquet Dining Room, after which the presidents will lay a floral offering at the Altar de la Patria and visit the National Congress to be received by the presidents of the Senate, Eduardo Estrella, and the Chamber of Deputies, Alfredo Pacheco. On Friday, the two leaders will participate in the opening ceremony of the XXVIII Ibero-American Summit, along with 13 other heads of state and government, at the Ozama Fortress.