Calamar Case: Disturbances occur in the vicinity of the Palace of Justice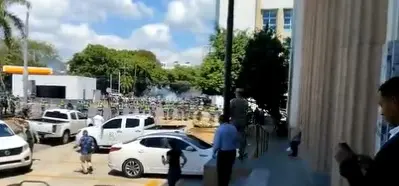 Protests, disturbances, and riots occurred near the Palace of Justice of Ciudad Nueva, where the coercive measures of those implicated in the Calamar case were being heard.
According to the demonstrators, the police threw tear gas bombs.
In addition, they broke the windows of the vehicle of councilor Fiordaliza Pichardo with a stone. They threw a tear gas bomb at the back of the car during the Dominican Liberation Party (PLD) demonstrations and Marcha Verde.