Coercive measure against defendants in Calamar case postponed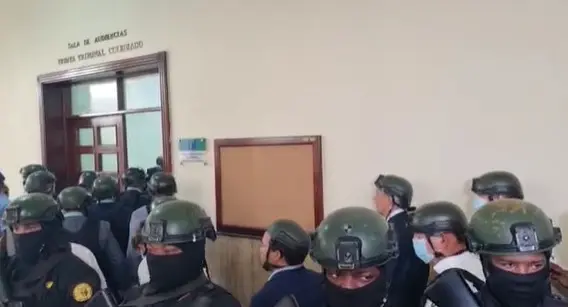 The Judicial Office of Permanent Attention Services of the National District postponed for next Wednesday at 10:00 a.m. the hearing of the coercive measures of those implicated in the Calamar case, a network that allegedly stole more than 17 billion pesos from the State, which added to some 2.1 billion in administrative debts total more than 19 billion.
The postponement of the hearing was; "Because of elements of evidence that have not been notified to the defense side. Most of the lawyers were ready, but some had not been notified," declared the lawyer  Andres Toribio on his way out.
The plaintiffs against Simón Lizardo and Gustavo Montalvo ask to be included in the file to explain the resources collected from the two pesos of Premium gasoline and Diesel for the renewal of the vehicle fleet through Industry and Commerce.
Among the accused are former finance minister Donald Guerrero; former administrative minister of the presidency Jose Ramon Peralta; former public works minister Gonzalo Castillo; former comptroller general of the Republic Daniel Omar Caamaño; former director of the State Sugar Council (CEA) Luis Miguel Piccirilo; former director of National Cadastre, Claudio Silver Peña, economist Angel Lockward and former directors of Casinos and Gaming, Oscar Chalas Guerrero and Julian Omar Fernandez.
Also arrested are Roberto Santiago Moquete, Agustín Mejía Ávila, Emir Fernández de Paola, Marcial Reyes, Alejandro Constanzo, Yahaira Brito Encarnación, Ana Linda Fernández, Aldo Antonio Gerbasi, Ramón David Hernández, Víctor Matías Encarnación, and Rafael Parmenio Rodríguez Encarnación.