In the heart of the Dunes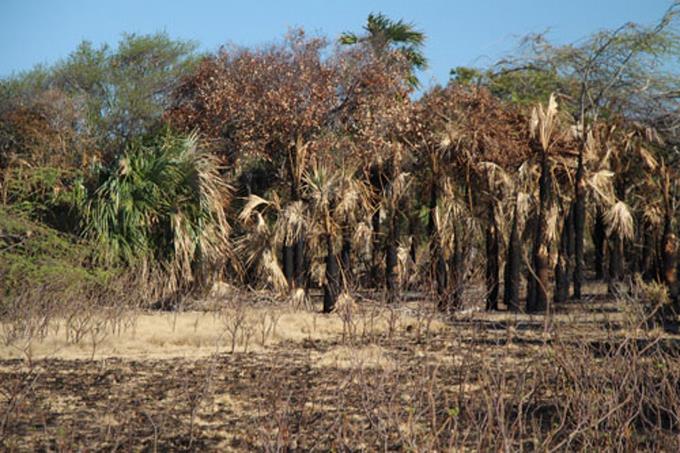 Large areas in the heart of the Dunes and in its buffer zone are being affected by burns to make plots of land, conucos and other purposes. José Dicén/
Las Calderas, Baní, DR
The aggressions against the Dunes of Las Calderas Natural Monument extend to the very heart of this ecological system, with the placement of palisades, covered by environmental permits, to parcel out large plots of land, as well as to cut down and burn endemic tree species in the protected area.
The logging and burning decimate trees like the guano barrigón (Coccothrinax spissa), saona cimarrón, aceitun, bayahondas, and several cactus species, such as the alpargata, which are in danger of extinction, explain environmentalists in the area.
Organized groups from Las Calderas, such as Comunidad Defensores de Las Dunas de Las Calderas and the Asociación de Apicultores del Pueblo de Caldera (Apideca), denounce that more than 3,000 square meters of dunes are also being cleared in Rancho Mar, in the area known as La Zona de Negrín, between Los Escobones and very close to the coastal zone.
Leaders of these organizations state that the affected properties are located in the internal area of Las Dunas and its buffer zone.
In its investigations on this denunciation, Listín Diario was able to verify how dozens of trees of the guano barrigón look blackened and others burned by the criminal fire, which seeks to clean vast areas of the wooded layer of the place, to make plots in their bosom, conucos and other purposes which damage the valuable ecological system unique in the country and in the Caribbean region.
It is evident that a long and well-installed palisade extends for thousands of meters across a wide area of these sandy lands. There are also stakes with red dots on their spikes, indicating that the land is being cleared for the same damaging purposes.
In addition, there are piles of topsoil from recent cuts, some two or three days old in some places and others about two months old, according to Listín's extensive investigation of this vital natural resource for the balance of the region's ecosystem.
In this site of the Félix Servio Doucoudray Scientific Reserve, there is one of the largest seedbeds of the Guano Barrigón; explain environmental defenders here.
They say that one of the people who has been pulling down thousands of meters of fortifications for the past two months "uses a permit from the Environment."
"He was refused that permit on one occasion, but now he says it has been renewed," explained a witness. They maintain that the former Minister of the Environment, Orlando Jorge Mera, "never agreed with the delimitation of these lands."