Today's hearing in Calamar case focuses on defenses of Gonzalo Castillo, Donald Guerrero and José Ramón Peralta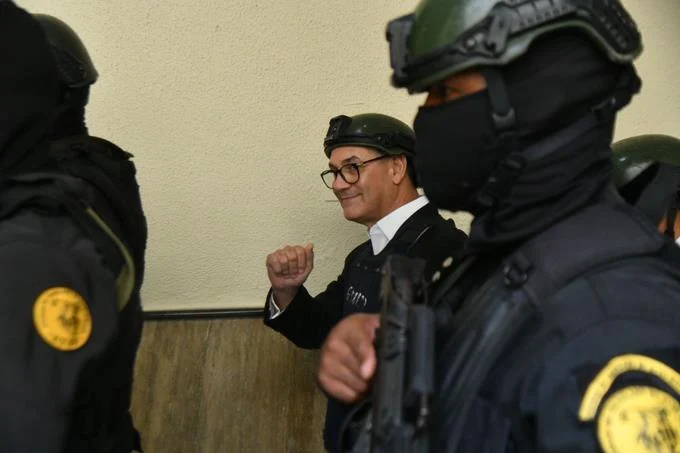 Santo Domingo, DR.
After the defenses of 10 of the accused in the Calamar case reached an agreement with the Public Prosecutor's Office last Friday, this Sunday, the request for coercive measures is focused on hearing the representatives of former ministers Gonzalo Castillo, Donald Guerrero, and José Ramón Peralta.
Together with them, the lawyers of the former Comptroller General of the Republic, Daniel Omar Caamaño; the former director of the State Sugar Council (CEA), Luis Miguel Piccirilo; the former director of the National Cadastre, Claudio Silver Peña; the former director of Juego de Azar, Julián Omar Fernández; Yahaira Brito Encarnación, Aldo Antonio Gerbasi, and Ramón David Hernández will have to stand in front of the stand to present their defense arguments.
If they consider so, these ten defendants will also have the opportunity to speak before Judge Kenya Romero, of the Permanent Attention Court of the National District, at 9:00 a.m., when the hearing is scheduled to continue.
On Friday, the defenses of the ten remaining defendants reached an agreement with the Public Prosecutor's Office, pleading guilty to the accusations made by the prosecution.
These were the lawyer Angel Lockward, Roberto Santiago Moquete Ortiz, Alejandro Constanzo Sosa, Marcial Reyes, Ana Linda Fernández Paola (De Paola), Emir José Fernández De Paola, Oscar Arturo Chalas Guerrero, Rafael Parmenio Rodríguez Bisonó, Agustín Mejía Ávila, and Víctor Matías Encarnación Montero.
Due to this admission of guilt, the coercive measure requested by the Public Prosecutor's Office, consisting of preventive imprisonment, was changed to house arrest, prohibition to leave the country, and economic guarantee.
On leaving the hearing on Friday, the defense of Gonzalo Castillo, also a former presidential candidate, indicated that the acceptance of guilt of the accused "does not affect" his client in the least since he was only mentioned on one occasion when "Angel Lockward, who says that a person, Fernando Crisóstomo, told him that Donald Guerrero told him that this money was for Gonzalo Castillo's campaign, contradicting statements he had given publicly before being arrested, therefore, for Gonzalo Castillo's defense, nothing has changed since the first day."
Meanwhile, Wilson Camacho, head of the Specialized Prosecutor's Office for the Prosecution of Administrative Corruption (Pepca), indicated that what happened in this coercive measure hearing was "amazing" since the accused had said more than what the Public Prosecutor's Office expected.