Accident in Rehabilitation Center leaves one person dead and two injured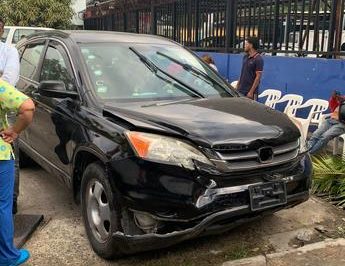 An elderly man lost control of his Jeep in the parking lot of the Dominican Rehabilitation Association in Las Palmas de Herrera, Santo Domingo Oeste, resulting in him running over three people. One of the victims, a woman, was killed, and two others were injured. The responsible driver, Domingo Marte, was identified by witnesses who reported that he mistakenly hit the accelerator instead of the brake while reversing into the center.
One witness claimed to have seen him hit one of the victims while accelerating. The injured individuals, Yeri de la Cruz (21 years old) and Gladis Garcia (65 years old) are receiving medical treatment at Doctor Marcelino Vélez Hospital. Meanwhile, Marte is receiving medical attention due to a "sugar rush." Once he is treated, he will be held in an office by the General Directorate of Transit and Land Transportation (Digesett) until his relatives can report to the authorities.
The authorities are currently attempting to locate the deceased woman's relatives. Marte's daughter from the rehabilitation center was also taken into custody.