Three Dangerous fugitives linked to Mocro Maffia and No Limit Soldier arrested in the Dominican Republic for extradition to the Netherlands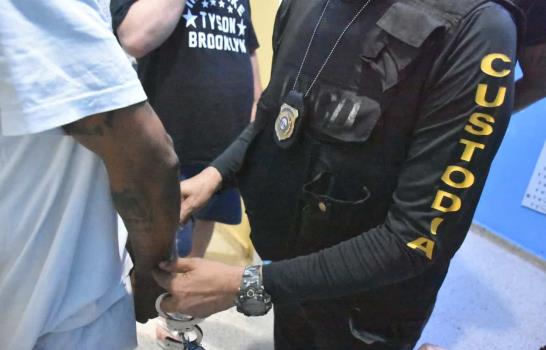 The Dominican Republic has arrested three dangerous fugitives linked to the criminal organizations Mocro Maffia and No Limit Soldier, who have been accused of a range of crimes in the Netherlands, including drug and arms trafficking, murder, and more. The arrests were carried out by the Attorney General of the Republic (PGR) in collaboration with the National Directorate for Drug Control (DNCD) and State Intelligence agencies.
In a coordinated operation, several raids were conducted in different parts of the National District, leading to the apprehension of Dennis Goedee, a member of the powerful criminal group "La Mocro Mafia," who was located on Bohechío Street in the Ensanche Quisqueya. Goedee was detained for extradition purposes after the Supreme Court of Justice issued order number 001-022-2022-SOEX-00028.
In addition to Goedee's arrest, intelligence agencies also seized several items of evidence, including seven luxury vehicles, cash in various currencies, electronic devices, watches, clothing, works of art, and real estate properties. The arrests were made in connection with criminal organizations that have been linked to a range of serious offenses, including murder, kidnapping, bribery, and even threats to public officials and the Dutch Prime Minister and Crown Princess. Urvin Laurence Wawoe, known by the alias Nuto, was also among the extraditable suspects arrested during the operation. He was apprehended in an apartment in the Torre Villa Palmera, located on General Cambiasso Street in Ensanche Naco.
Recently, a press release from the authorities also reported the arrest of a defendant who is a leader and member of the No Limit Soldier criminal network. The individual is facing extradition on seven charges, including assassination, arms trafficking, drug trafficking, and money laundering. The arrest was made through order number 001-022-2023-SRES-00242, and the defendant is set to be extradited.
During the operation, the authorities raided an apartment on General Cambiasso Street in Torre Shalom III, Ensanche Naco, where they arrested the defendant on the roof of the building while the third extraditable suspect, Terence Angelo Richard de Vries, attempted to escape. De Vries, a Dutch national and a member of the criminal organization, was also arrested for extradition purposes through order 001-022-2023-SOEX-00004, on charges of drug trafficking and money laundering.
The authorities expressed their appreciation for the close cooperation with allied countries, which enabled the arrest of these dangerous fugitives in the Dominican territory.