Dominican Police officers certified in human rights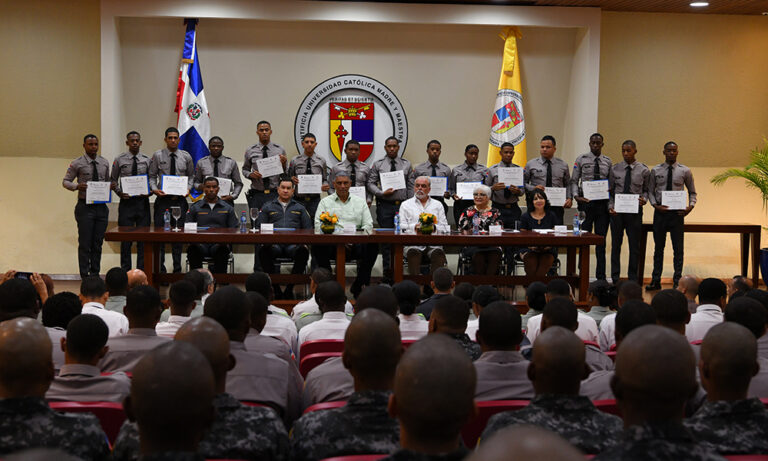 Yesterday, 87 uniformed personnel who completed the supplementary program on human rights and citizen coexistence were recognized as part of the government's police reform. During the ceremony held at the Pontificia Universidad Católica Madre y Maestra (Pucmm), Mu-Kien Adriana Sang Ben, the coordinator of the Technical Commission for the Restructuring of the Police Education System, stated that the pilot program was initially attended by 100 uniformed men from the provinces of Santiago, La Romana, and Barahona, as well as the General Directorate of Traffic Safety and Land Transportation (Digesett), and the Tourism Police (Politur). However, only 87 participants were able to complete the 90-hour course.
Sang Ben added that the program was conducted by the Consortium of Civic Education of the Pucmm and was part of the institution's educational reform. This reform aims to enhance the skills and knowledge of its members through topics such as ethics and corruption, authority performance, peace culture, conflict management, democratic coexistence, and human rights. Sang Ben emphasized that the program's objective is to contribute to the development of an efficient and effective public police service that guarantees the safety and protection of all individuals, as stated in the constitution and laws.
The event was attended by several personalities, including the director of the law enforcement body, Eduardo Alberto Then; the Minister of the Interior and Police, Jesús Vásquez Martinez, and the executive commissioner for the reform of the institution, José Vila del Castillo. Vila del Castillo highlighted that the reform aims to improve the quality of life of the officers, the transparency and integrity of the financial operation and management of the organization, and the strengthening of all police operations through the use of technology to improve the capabilities of the agents who patrol the streets.