Insecurity in the neighborhoods of the National District remains latent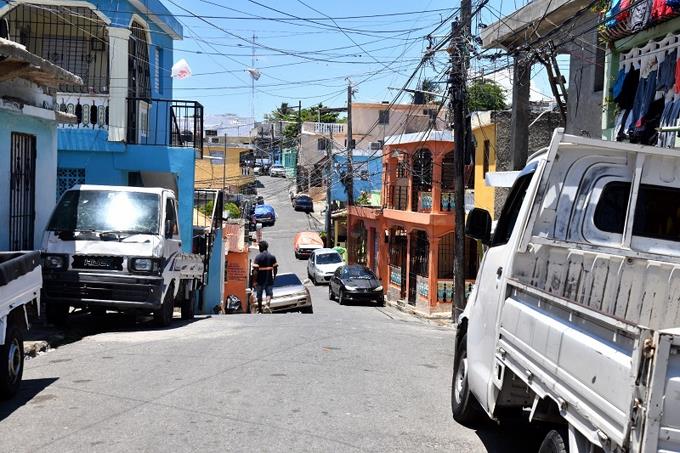 Los Guadules neighborhood. Photo by Jorge Luis Martínez / LD
Santo Domingo, DR
Community members of different neighborhoods of the National District complain about insecurity, delinquency, and the lack of patrolling by the National Police in these zones, which keeps them "living insecure."
During a visit of journalists of the Listín Diario in Los Guandules and the neighborhood 27 de Febrero, the residents expressed their concern for "the delinquent situation which affects them at all hours."
Roberto, a resident of La Esperanza Street in the Los Guandules sector, indicated that "the neighborhood is not safe," especially after the teenager Carla Concepción, 14 years old, died at the hands of two unknown persons last Saturday.
He also indicated that they are still worried since, in the early hours of this Saturday morning, April 22, around ten shots were heard, for which the resident asked the authorities to do something for the sector.
"This is still the same. Criminals continue passing by and shooting shots in the early morning. I really want the government and the police to do something, because our lives are not safe if this continues like this," said Roberto.
In other parts of the sector, such as Los Bomberitos, the locals say that the area "is calmer" and that the patrolling is more constant, but they are witnesses of how the delinquents keep the surrounding areas in "scourge."
"Up here, the police have cleaned up, but down there (La Esperanza street), it is a jungle; it is not easy," said a resident.
27 de Febrero Neighborhood
Meanwhile, the 27 de Febrero neighborhood residents are dismayed at not being able to go out peacefully after seven o'clock at night for fear of being "mugged" by delinquents.
"Right now, you cannot be anywhere; you cannot go out to the corner or anywhere else because wherever you want, you are robbed, and the delinquents are more armed than the police," complained the resident.
He also stated that the police patrol the area, but their work is deficient because they have been unable to mitigate the assaults in the surrounding area.
Another resident stated that the situation "has gotten out of the hands of the authorities" and complained that they are "killing people" to solve the country's crime problems.
Ester, another community member, said that one could not be "at peace" at any time since another community member had been assaulted twice at 6:00 in the morning when she was on her way to work. Still, there is also a lot of insecurity at night, even though the patrol car passes by sometimes during the day.