Triple homicide perpetrator in Elías Piña wanted after threatening to kill other people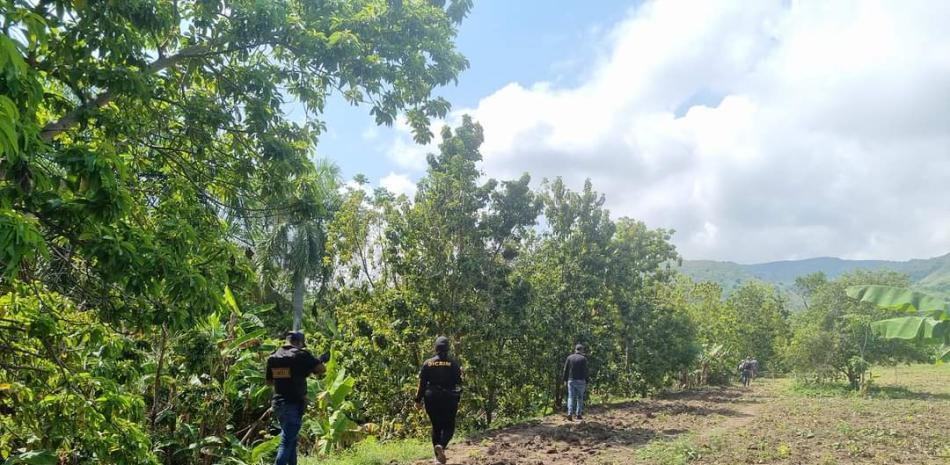 Agents search in thickets of La PastillaEXTERNAL SOURCE
Since early this morning, agents of the Central Investigation Directorate (Dicrim) have been intensifying an operation against the mayor of the community of La Pastilla in Elías Piña, who, early Friday morning, killed two Haitian brothers and a Dominican baby. He also seriously wounded two women.
The agents, in coordination with the prosecutor's office, are carrying out raids in the homes of Rafael Feliz Cabrera's closest relatives and are searching the area.
Feliz Cabrera, a retired officer of the National Army, fled after having shot Haitian nationals Ferneli Michel, Mamen Michel, and a six-month-old baby.
He also seriously wounded Valancia Desfiló, a 24-year-old Haitian woman, and Deisy De la Rosa, a 16-year-old Dominican woman, and killed several goats in the yard of one of the residences where he committed the acts.
Audio
In an audio circulating in WhatsApp groups, the alleged perpetrator of the triple homicide is heard saying that he will not turn himself in until he takes the life of a foreigner whom he would have paid to do a job for him. He also threatens the prosecutor and the mayor of Comendador, Julio Altagracia Núñez, the same one who arranged permission for him to go to sleep with his family, from the detachment where he was detained for an act of violence.