Hazy skies and high heat in Dominican Republic due to Saharan dust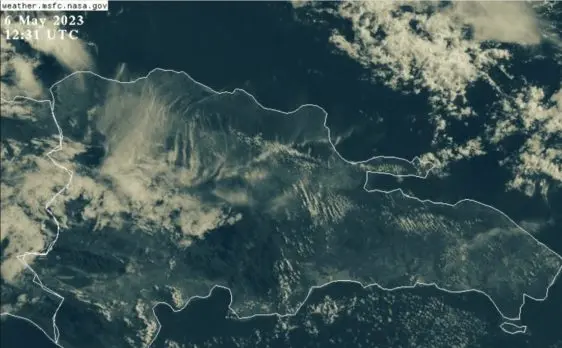 This Saturday, weather conditions will be dominated by the entry of dust particles from the Sahara; this dry air mass will limit rainfall activity in much of the Dominican territory and cause a hazy sky and hot environment, reported the National Meteorological Office.
However, the Onamet explained that the effects of a trough to the north over the Atlantic Ocean associated with a weak frontal system will originate in the afternoon until early evening cloudy increases with isolated downpours, thunderstorms, and possible wind gusts in the northwestern portion and the Central Cordillera, with greater frequency in the provinces: Dajabón, Elías Piña, Puerto Plata, Valverde, Espaillat, Santiago Rodríguez, Santiago, among other nearby areas.
Temperatures will continue to be quite hot during the day due to the combination of the dust coming from the Sahara and the wind blowing from the southeast. Therefore, the recommendation to the entire population to drink enough liquids (water), wear light clothes (preferably light colors), and not expose themselves directly to the sun, especially from 11:00 a.m. to 4:00 p.m. without sunscreen, is maintained.
For tomorrow Sunday, in the morning hours, there will be isolated showers on the Caribbean coast and the northeast of the country. However, in the afternoon, the trough will bring more moisture and instability to our forecast area, generating cloudy conditions with locally moderate to heavy downpours, thunderstorms, and wind gusts over the northwest, northeast, Central, Central Cordillera, and the border area until the early hours of the night. Cloudy skies and scarce precipitation will continue to prevail for the rest of the country.