Spain and Dominican Republic: A shared history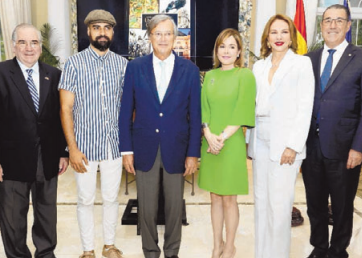 The afternoon was falling, and a line of vehicles was entering the residence of the Spanish Embassy, located on Independencia Avenue and near the Malecon of Santo Domingo.
The occasion of the meeting was significant, as the book "España y la República Dominicana. A shared history," a work sponsored by the Spanish embassy in the country and produced by Corripio publishing house and the Spanish-Dominican entrepreneurship.
The ambassador of Spain, Antonio Pérez Hernández, accompanied by his wife, Pilar Lladó, received the guests with visible hospitality during the event.
The presentation was attended by the Minister of Culture, Milagros Germán. There, before those present, she recognized the Spanish cooperation with the country, with the Caribbean, and all of Latin America and that since April 23 is celebrated as International Book Day, "that it is a book that today unites us in this great meeting, is a very beautiful occasion," she said.
The ambassador then commented that the book was written by more than forty outstanding Dominican and Spanish authors and highlighted the close political, economic, and cultural relations both countries have maintained since the arrival of Christopher Columbus in 1942.
An audiovisual presentation further enhanced the book's qualities, which is over 600 pages long. In it, businessman José Luis Corripio Estrada briefly explained the value of this book.
This cultural event was celebrated with a variety of cocktails and hors d'oeuvres.