Proposal for urban land delimitation instrument unveiled in Barahona province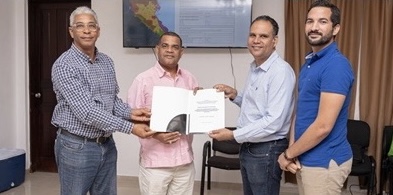 Barahona.-  Technicians from the Ministry of Economy, Planning and Development have presented the municipality of Barahona with a proposal for the Urban Land Delimitation Instrument (IDSU). This initiative, in accordance with Law 368-22 on Territorial Planning, land use, and human settlements, marks Barahona as the first municipality in the country to implement such an instrument.
During a council meeting, Luis De León and Gustavo Valdez, analysts, and consultants from the Ministry, introduced the model ordinance for the implementation of the IDSU in Barahona. The proposal includes a cartographic revision of the municipality's limits and will be managed by the urban planning office of the city council with support from FEDOMU (Federation of Dominican Municipalities), the regional Ministry of Economy, Planning and Development, and other stakeholders. The goal is to ensure the correct use of urban land and maximize the benefits provided by the instrument.
The Urban Land Delimitation Instrument is a strategic planning tool used to define and regulate urban land in cities and municipalities. It allows for the classification of land, sets building parameters, determines road grades, identifies undeveloped areas, and guides urban growth over time. By employing this dynamic instrument, Barahona aims to protect agricultural land, mitigate natural risks, and ensure the comprehensive and sustainable use of its territory, all while laying the foundation for future land use planning endeavors.