Santos Badia affirms that President Abinader would win reelection with more than 52%.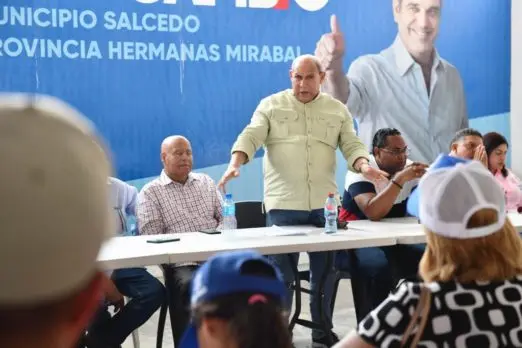 The secretary of education and doctrine of the Modern Revolutionary Party (PRM), Rafael Santos Badía, affirmed here that President Luis Abinader is in a firm position in the preference of the Dominican electorate with 52% of sympathy.
"The polls reveal that President Luis Abinader would be reelected in the first round with 52% of the votes, without considering a base of 21% of undecided voters that in the worst case scenario would add up to at least 10% in favor of our candidate" he affirmed.
Santos Badía highlighted the importance of the strength of the party structure in the province to play an essential role in the country to continue under President Abinader, who is working hard for the economic growth and social stability of its citizens.
"In this province alone the government has made an investment of more than 1.2 billion pesos in social assistance, the agricultural sector has been financed with more than 1.9 billion pesos, of which 296 loans have been at zero rate, 1.3 billion to SMEs and an important investment in education and professional technical training," he said.
You can read: David Collado bets on religious tourism in Higüey
These statements were made during a meeting of PRM leaders in the province of Hermanas Mirabal. They also coordinated party actions for next weekend when the governing party will take to the streets to visit homes to publicize the activities of the government in favor of the community.
The meeting, full of enthusiasm and motivation, was attended by the provincial president of the PRM, Domingo Adames, Maireni Corniel, president of the municipality of Salcedo, and governor Lisset Nicasio.
Also, the deputy Felix Hiciano, the vice presidents Juan Tomas Camilo, Rafael Martinez, the general secretary Jose Luis Ortega, and Tomas Camilo, liaison of the secretary of education.
Also Elido Perez and the mayor of Salcedo Maria Mercedes Ortiz.
Rafael Santos Badía is the political coordinator of the PRM for the Hermanas Mirabal province.