First domestic aerodrome in Caribbean region authorized by Dominican Institute of Civil Aviation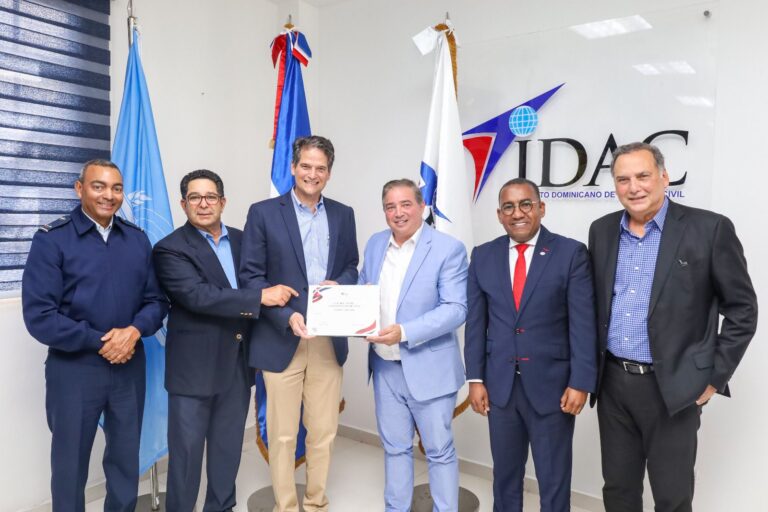 Santo Domingo.- The Dominican Institute of Civil Aviation (IDAC) has officially granted authorization for the operation of the Nisibon AirPark domestic aerodrome, the first of its kind in the Caribbean region. The aerodrome is located on a property spanning 23 million square meters and will feature a real estate project, an adventure park with 13 attractions, an aviators club, and other activities related to the aeronautical sector.
The certificate was presented by IDAC's interim director general, Héctor Porcella, to Oscar Villanueva, the president of Nisibon AirPark, in the presence of businessmen Fernando Villanueva and Eduardo Read, the president and board member of the Viamar group, respectively. Also in attendance were Víctor Pichardo, the Director of the Airport Department, and Major General Carlos R. Febrillet, the Commander General of the Dominican Republic Air Force.
Porcella stated that the certification of the new aerodrome fully complies with the requirements stipulated in the Dominican Republic's Civil Aviation Law No. 491-06, following a process that began in 2013. He emphasized that the aeronautical complex aligns with the current prosperous state of civil aviation in the country, driven by the exceptional growth of the national tourism industry and the commitment of President Luis Abinader and Minister David Collado to strengthen investments in strategic sectors of the Dominican economy.
Highlighting the scale of the Oscar Villanueva project, Porcella noted that there is no complex in the country or the region that combines an adventure park, an air community, two theme hotels, 7 kilometers of river, a beach club, and activities centered around a domestic airport, among other attractions.
In addition to the aeronautical facilities and terminal with hangars, the complex will include a real estate development featuring villas equipped with hangars or hangar homes, allowing owners to conveniently store their aircraft on-site.
Situated in the community of Las Lagunas de Nisibón, Higüey, the private capital project is located less than 50 kilometers from Punta Cana and is expected to become one of the main complementary attractions to the renowned tourist destination in the Caribbean region.