Fog over Santo Domingo is associated with a trough that forms in the Atlantic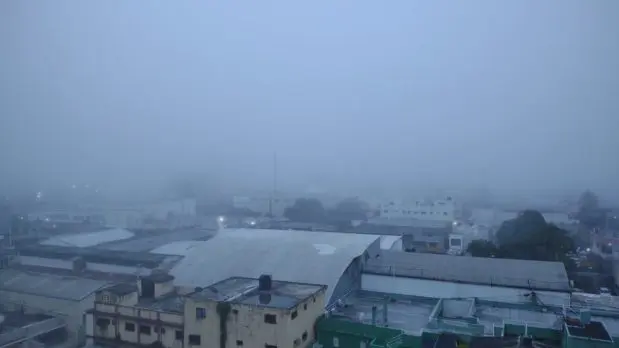 Santo Domingo.- The National Meteorological Office (Onamet) in the Dominican Republic has attributed the fog that covered Santo Domingo on Monday to the indirect effects of a deep trough associated with a tropical disturbance located northeast of the Bahamas. Onamet clarified that the disturbance does not pose a threat to the country. Forecaster Karinna Soto explained that the fog is a result of reduced visibility due to suspended water droplets in the atmosphere caused by the trough and associated humidity and instability. The fog typically dissipates as the day progresses and temperatures rise.
Onamet reported that the disturbance, associated with a trough extending northeast of the Bahamas, has a 10% chance of becoming a possible tropical cyclone within the next 48 hours, according to the National Hurricane Center of the United States. This information is being provided despite the official start of the hurricane season not being until June first.
The weather conditions in the Dominican Republic will continue to be influenced by the effects of the trough, keeping the area humid and unstable. Onamet predicted local showers and thunderstorms in the morning, primarily in the eastern and southeastern regions, including San Cristóbal, San Pedro de Macorís, Greater Santo Domingo, La Romana, and La Altagracia. Afternoon rainfall is expected to be more frequent and intense, with moderate to heavy downpours, thunderstorms, and gusty winds affecting provinces such as Monte Plata, Duarte, La Vega, Monseñor Nouel, María Trinidad Sánchez, Santiago, Valverde, Dajabón, and Elías Piña, among others.
Onamet has issued alerts for possible river, stream, and ravine flooding, as well as urban and rural floods, in 25 provinces. Several provinces are under notice, including Monsignor Nouel, Valverde, San José de Ocoa, Duarte, Santiago, Santiago Rodríguez, Elías Piña, La Vega, Sánchez Ramírez, María Trinidad Sánchez, Puerto Plata, and Espaillat. Additional provinces are on alert, including Azua, Monte Plata, La Altagracia, Dajabón, Hato Mayor, Hermanas Mirabal, San Juan, San Pedro de Macorís, Samaná, El Seibo, Greater Santo Domingo (including the National District), San Cristóbal, and La Romana.
The meteorological pattern is expected to continue on Tuesday, with the trough maintaining conditions favorable for cloudy developments.