Green alert 13 provinces of the country due to possible river flooding and urban flooding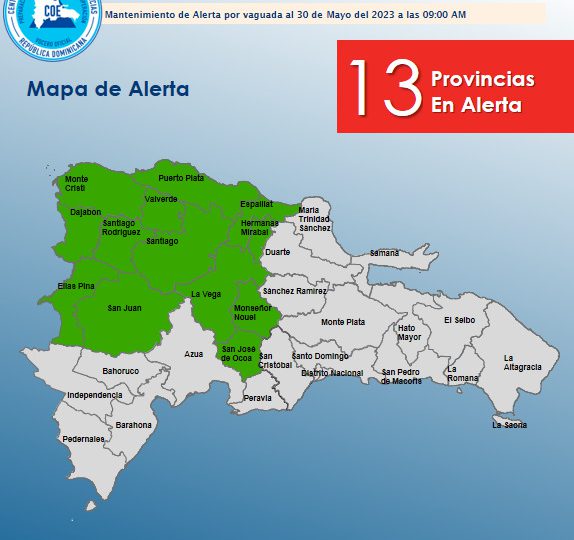 Santo Domingo.- The Emergency Operations Center (COE) in the Dominican Republic remains on high alert due to the forecasted weather conditions for today. According to the National Meteorological Office (ONAMET), several regions of the country can expect heavy rainfall and thunderstorms.
During the morning hours, downpours are expected in provinces such as Peravia, Azua, Barahona, Pedernales, San Cristóbal, and certain areas in Greater Santo Domingo, particularly near the southern coast. In the afternoon, there is a forecast of cloudiness with showers, thunderstorms, and gusty winds in sectors of Hato Mayor, Monte Cristi, Puerto Plata, Valverde, Santiago Rodríguez, La Vega, Santiago, Dajabón, Elías Piña, Independencia, and neighboring provinces.
In response to these conditions, the COE has extended and continues to maintain the green alert level, indicating the possibility of river, stream, and ravine flooding, as well as urban and flash floods, in various provinces. The provinces currently under a green alert are Montecristi, Espaillat, Elias Piña, Santiago Rodríguez, Monsignor Nouel, San José de Ocoa, Dajabón, Mirabal Sisters, San Juan, Santiago, Puerto Plata, and La Vega.
However, the COE has lifted the green alert level for the provinces of San Cristóbal, Santo Domingo, Distrito Nacional, El Seibo, La Altagracia, San Pedro de Macorís, Hato Mayor, Monte Plata, and Peravia.