Hot temperatures to continue this weekend in the Dominican Republic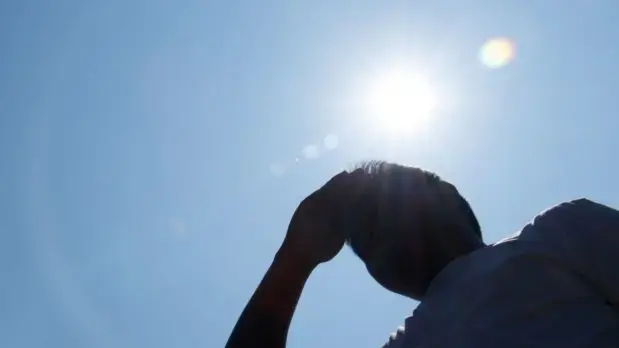 Hot temperatures will continue this weekend in the Dominican Republic due to the permanence of the Sahara dust cloud and the humidity that continues to reach the country from the Caribbean Sea.
According to what was informed by meteorological analyst Jean Suriel, the next ten days will pass with high thermal sensation throughout the national territory, in addition to moderate to allergic solid processes due to the African particles suspended in the lower atmosphere.
"No significant rainfall is expected: the atmospheric river continues to affect Cuba, Jamaica and the Bahamas with constant downpours and flash floods, but that cloudiness will not reach the DR because of Saharan dust," the also news anchor maintained in a Twitter post.
He added that only some showers could be registered in the south, southeast, north, Central Cordillera, and northwest due to the effects of marine humidity; also, some isolated gusts of wind have been felt in the last 24 hours due to a high pressure located in the central Atlantic.
Jean Suriel added that as of Monday, the Sahara dust cloud in the central Caribbean would begin to diminish.
Recommendations to combat hot temperatures
Given the effects of the heat wave on the country, the authorities recommended the population, in general, drink plenty of water to stay well hydrated, consume fruits and vegetables, and wear sun-protective clothing as preventive measures to avoid health problems, such as blood pressure.
They urge the population to "consume enough liquids, avoid hot and high-calorie drinks, but also sodas, beers, and other alcoholic, caffeinated or very sugary drinks, as well as salty or fatty foods to maintain proper hydration.
Also, wear light, loose and light-colored clothes; as far as possible, use sunscreen, and move to cool and ventilated places where they are not too exposed to the sun's rays.
"The consumption of fruits, vegetables and other nutrients should become the ideal foods for the population, since they allow to quench thirst, hunger and contribute to keep the skin well nourished and hydrated," said the entity through an informative note.
Among the vegetables, it recommends consuming vegetables such as tomatoes, cucumber, radishes, celery, lettuce, melons, and watermelon, among others.
He pointed out that if a person feels dizzy or faint, they should lie down in a cool place, put a cold, wet cloth on the neck, get under a roof, and drink a rehydrating drink, but never hot infusions, nor very sweet.
Likewise, it is suggested to go to the nearest health center in case of other symptoms of heat, such as headache, fatigue, intense thirst, nausea and vomiting, muscle cramps, convulsions, and abundant sweating.
It is necessary to pay special attention to vulnerable people such as children, pregnant women, the elderly, people with chronic diseases, and those with some disability.