Baby manatee rescued on El Faro beach in San Pedro de Macorís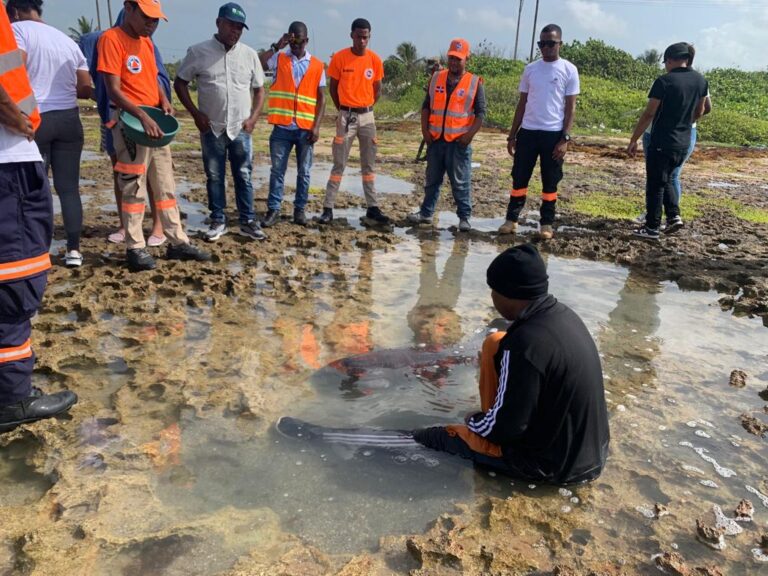 San Pedro de Macoris.- This Friday morning, fishermen rescued a baby manatee stranded on El Faro beach, in the Villa Faro neighborhood of San Pedro de Macorís. The mammal was kept safe until the environmental authorities arrived. The personnel of the Ministry of Environment, provincial office, went to the place and is monitoring the case. Veterinarians from the National Aquarium also arrived, who examined the manatee and found it to be in good health.
The authorities and marine life technicians from the Ministry of the Environment explained that now the objective is to locate the mother of the baby manatee to try to reunite them and return them to their natural habitat. Juan Bautista, regional director of the Environment, transferred his staff to the place to coordinate the search and rescue efforts of the mother. During two hours, search brigades, aided by a drone, attempted to locate the mother manatee. Due to the high temperature in the pool and the risk of the animal injuring itself on the rocks, the decision was made to transfer the baby manatee to the National Aquarium for continued care while the search for the mother continues, according to a source cited by Diario Libre.
A tent was set up by the brigades to provide shade for the baby manatee, attracting the attention of curious onlookers who approached to observe the mammal. The Vice Minister of Coastal-Marine Resources of the Ministry of Environment and Natural Resources (Mimarena), José Ramón Reyes, is leading the logistical efforts, with support from Fundemar, the technical staff of the National Aquarium, SEMPA, and the Ministry of Environment.
Manatees are herbivorous aquatic mammals that live in fresh and salt waters, near the coasts, of America and Africa. They are known as sea cows and are a species threatened by habitat loss, poaching, and ship strikes. In the eastern region, there are notorious populations in Sabana de la Mar, Bávaro, and Miches.