Hospital de La Altagracia denounced for lack of beds says they are intervening the structure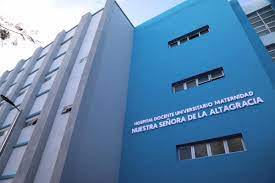 The Hospital Materno Infantil de la Altagracia responded to reports that several people are allegedly lying in the same bed due to the lack of this furniture.
In a communication posted on its social networks, the hospital's management indicated that it is investigating the complaint while informing that its structure is being intervened.
"This center is currently being intervened in the areas of emergency, surgery, pre-delivery, ICU and dentistry to promote improvements in the quality of care," the note specifies.
Complaint
This week a woman denounced using a video that her sister, who was admitted to the referred health center, was put to bed with another woman who had given birth.
The woman, whose name is unknown, told the doctor on duty, "You put several people in a bed without knowing if the other person has a contagious disease."
She added that it is one patient per bed and considered this "an abuse and shamelessness what is being committed at the health center."
The doctor on duty indicated that they put up to four women in the same bed if necessary since the others would not lie on the floor.
The doctor added, "just because she is your cousin, the others will not be left without a bed."