Tropical wave could become a cyclone in the next 48 hours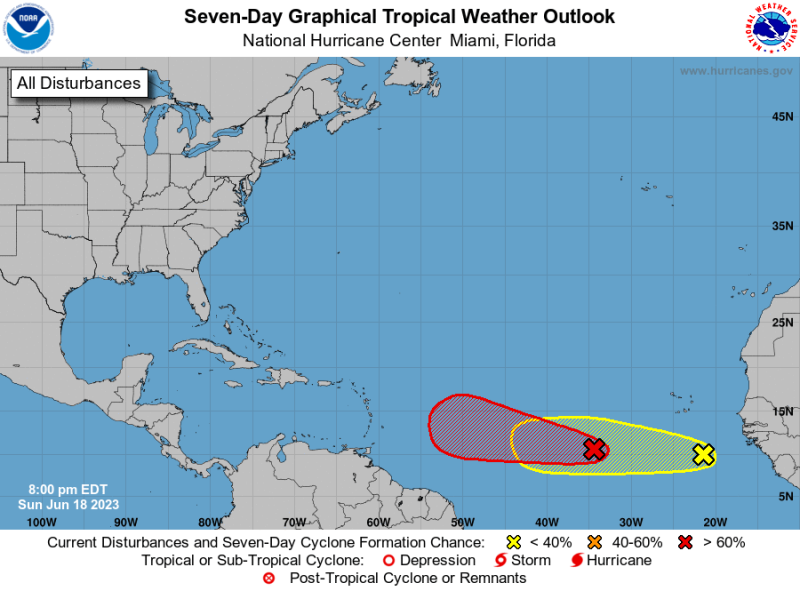 Santo Domingo.- The National Meteorological Office (Onamet) is currently monitoring the development and progression of a low-pressure system associated with a tropical wave situated several hundred kilometers southwest of the Cape Verde Islands. There is a high likelihood of 90% that this system will evolve into a tropical cyclone within the next 48 hours.
Due to unusual wave conditions off the Caribbean coast, Onamet advises operators of small and fragile boats to remain close to the coastal perimeter and avoid venturing far offshore, specifically from Isla Beata (Pedernales) to Punta Águilas (Pedernales).
On Monday, temporary and isolated showers are expected primarily in provinces such as La Altagracia, Samaná, Peravia, San Pedro de Macorís, Monte Plata, Hato Mayor, Barahona, and the Greater Santo Domingo area, among other nearby regions.
Later in the afternoon and extending into the early nighttime hours, a trough will combine with local effects, resulting in heavy downpours accompanied by distant thunderstorms. These conditions will be particularly prevalent in towns located in the northwestern regions, Central Cordillera, and the border area.
Temperatures will remain hot, and therefore, the population is advised to stay hydrated by consuming an adequate amount of fluids. It is also recommended to wear light-colored clothing and avoid prolonged exposure to the sun's rays without proper protection, especially between 11:00 a.m. and 5:00 p.m., with peak intensity at 4:00 p.m.