Governments of Dominican Republic and Spain sign agreement to fight for women's rights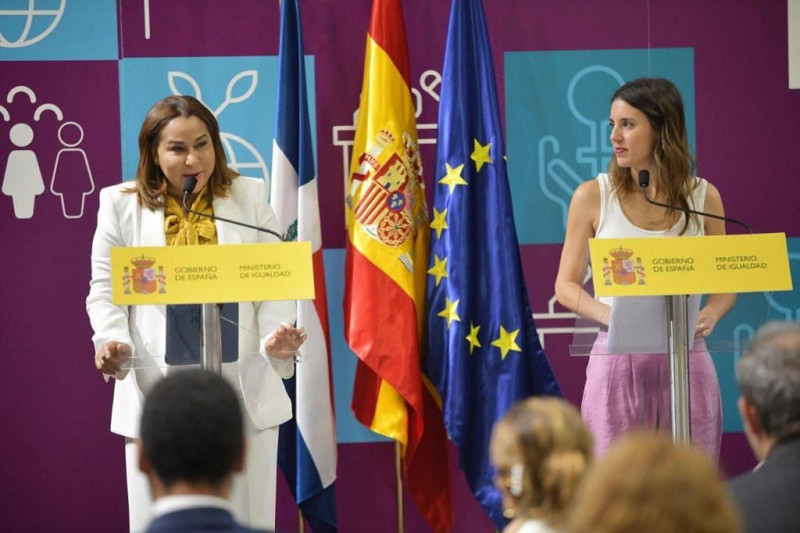 Dominican Minister of Women's Affairs, Maira Jimenez, and Spain's Minister of Equality, Irene Montero, during the signing of their "Memorandum of Understanding" for women's rights.
The Minister of Women's Affairs in the Dominican Republic, Maira Jiménez, and the Minister of Equality in Spain, Irene Montero, announced this Friday the signing of a "Memorandum of Understanding" in which they establish their cooperation in the interest of strengthening the standards of prevention against gender violence and "the advancement of women in all areas" for both countries.
As reported by the Ministry of Women through its official Twitter account, the Memorandum of Understanding puts at the center women's human rights; care and care societies; equality, education, and awareness; comprehensive health; women's autonomies; and the right to live free from all forms of violence.
Jiménez states they will work in the country to "promote equality, a comprehensive approach to violence; economic autonomy, the insertion and permanence of women in the labor market; comprehensive care policies and systems; and others."
Meanwhile, the representative of the Spanish government said that the memorandum would allow the exchange of good practices and the construction of collaborative networks, such as the Ibero-American Initiative to Prevent and Eliminate Violence against Women (IIPEVCM), as well as the progress made by the country in this area.