Tropical Storm Cindy begins to gradually weaken in the Atlantic Ocean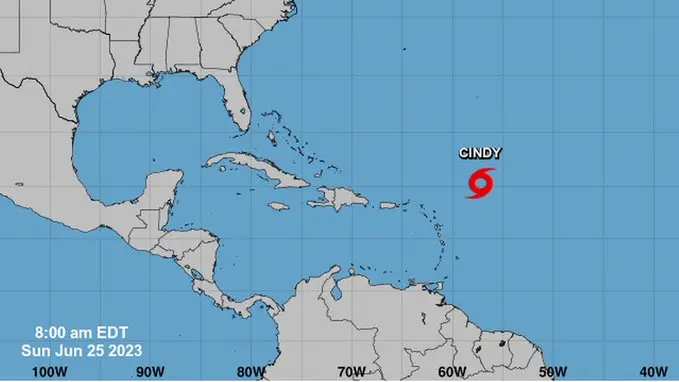 Miami – Tropical Storm Cindy is gradually weakening in the mid-Atlantic as it moves in a northwesterly direction, the U.S. National Hurricane Center (NHC) reported Sunday.
Cindy, the third tropical storm of the Atlantic hurricane season, today has maximum sustained winds of 50 mph (85 km/h) and is about 430 miles (695 km) northeast of the Lesser Antilles.
Cindy, which poses no danger to coastal areas and formed Thursday night in the open ocean from tropical depression number four, is moving northwestward at 21 mph (33 km/h) but is expected to slow down over the next few days.
Tropical storm force winds extend up to 60 miles (95 km) from the center, and according to NHC projections, the system will pass far to the northeast of the northernmost Leeward Islands.
NHC experts forecast that it will experience a gradual weakening over the next 48 hours and become a low-pressure system in the mid-Atlantic by Tuesday.
After Arlene and Bret, Cindy is the third tropical storm to form in the current Atlantic hurricane season, which officially began on June 1.
According to the National Oceanic and Atmospheric Administration (NOAA), at least 12 named storms will form in the Atlantic basin this year, of which 5 to 9 will become hurricanes.
According to NOAA meteorologists, who forecast a "near-normal" and average hurricane season, at least one of them could be a major hurricane.