Study reveals that sargassum arriving in the Dominican Republic has high concentrations of arsenic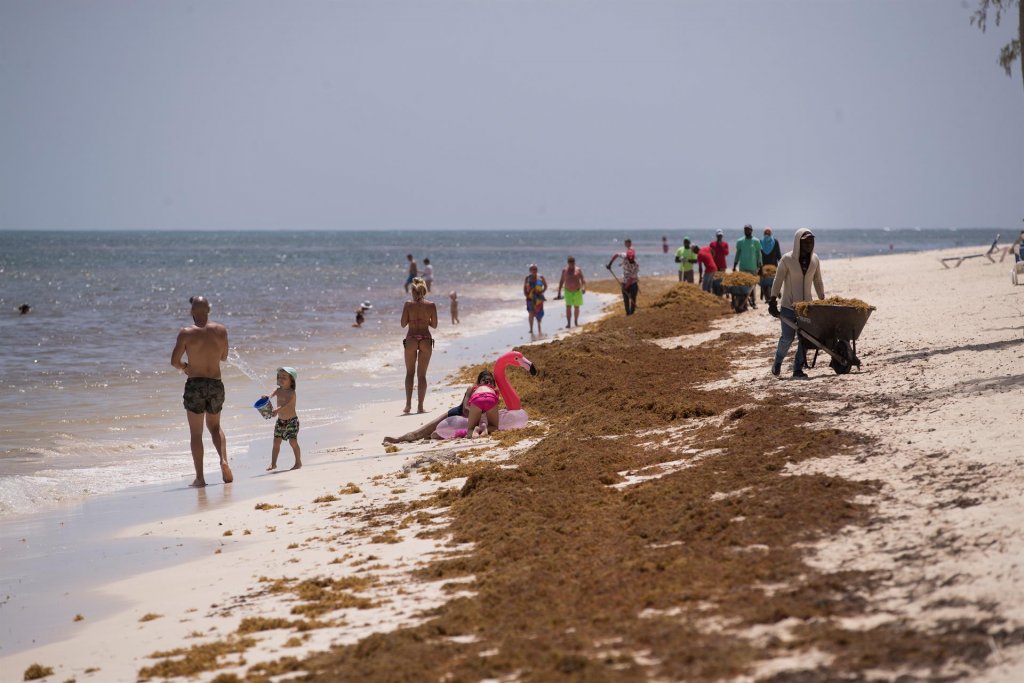 Santo Domingo.- A study conducted by researchers from the Technological Institute of Santo Domingo (INTEC) has revealed that the varieties of sargassum that wash up on the coasts of the Dominican Republic contain high concentrations of arsenic, exceeding international limits for agricultural use and animal feeding. The study, published in the Marine Pollution Bulletin, involved collecting samples from three sargassum varieties found on eight beaches to analyze the presence of heavy metals.
The researchers from INTEC detected the presence of eleven heavy metals, with iron, arsenic, and zinc being the most concentrated. Cadmium was found in samples from three beaches, nickel in five, and lead in six.
The study was carried out by Rolando Liranzo, Aris Mendis Gómez, Bolívar Gómez, Yusmel González-Hernández, and Ulises Jauregui-Haza, who collected samples of S. fluitans III, S. Nathans I, and S. Nathans VIII from eight beaches across the country in 2021. The beaches included Bávaro and Punta Cana in La Altagracia, Juan Dolio and Guayacanes in San Pedro de Macorís, San Andres in Santo Domingo, Nigua in San Cristóbal, Enriquillo in Barahona, and Juancho in Pedernales. This research is part of the doctoral work conducted by students of the Ph.D. program in Environmental Sciences at INTEC.
Comparing the findings with two previous studies on metal presence in sargassum along the island's coast, the researchers found that the levels of arsenic reported in the samples were twice as high as those recorded in samples collected in 2015 and 2019. However, cobalt, chlorine, cadmium, nickel, and zinc values were lower, while copper and lead were in a similar range to previous studies.
The scientific publication emphasizes that the arsenic content in the samples exceeds the maximum values recommended for agricultural use, soil quality, and animal feed. This poses a limitation for utilizing sargassum in agriculture, as its use could potentially cause long-term damage to soils and lead to the accumulation of arsenic in the food chain.
The study underscores the need for further research on the chemical and organic composition of sargassum reaching the Dominican Republic's coasts before considering its use in agricultural and animal feed applications.
The two previous studies on heavy metal presence in sargassum were also conducted by researchers from INTEC. The study titled "Prospective elemental analysis of the accumulated algal biomass on the coasts of the Dominican Republic in 2015" was presented by Fernández, Boluda, Olivera, Guillermo, Gómez, Echavarría, and Mendis Gómez. The study titled "Lead, chromium, nickel, copper, and zinc levels in sargassum species reached the coast of the Dominican Republic during 2019" was presented by Tejada-Tejada, Rodríguez-Rodríguez, Luis Rodríguez de Francisco, Omar Paino, and Boluda.