136 flight operations scheduled at Las Americas this Friday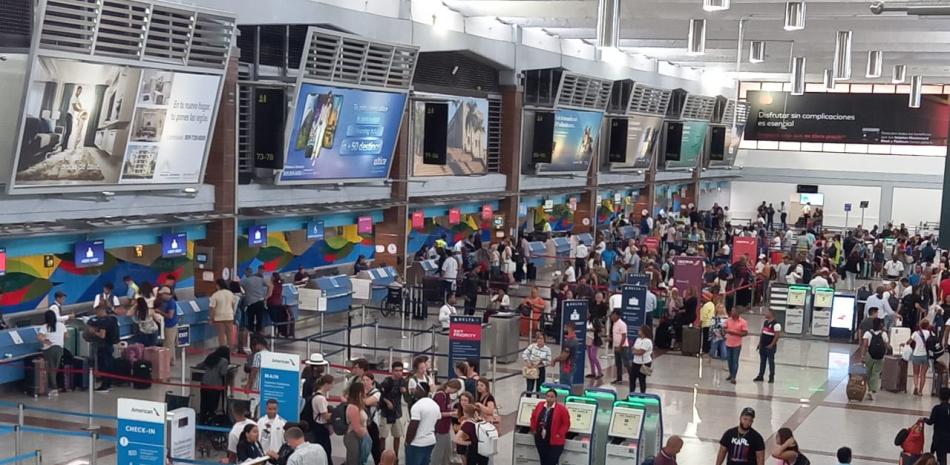 Passengers at Las Américas International Airport
Santo Domingo.- The influx of domestic and foreign passengers leaving and entering the country has increased considerably in the last few days due to the summer season when hundreds of families leave the country for trips abroad after the end of the school and university term in the country.
According to the data, more than 50% of the visitors are departing and arriving from cities in the United States, such as New York, Miami, Florida, San Juan, Puerto Rico, Orlando, Fort Lauderdale, Boston, New Jersey, and other U.S. states.
Passengers are also arriving and departing on flights from cities in Europe, France, Italy, Germany, Spain, and Canada and from South and Central America and the Caribbean.
In that order, the Department of Flight Operations of Aeropuertos Dominicanos XXI (Aerodom) reported that 136 flights were scheduled to operate this Friday, 76 of them arriving from abroad through Las Americas International Airport and 60 departing to these different destinations.
Meanwhile, Air Europa, Iberia, Condor, JetBlue, American Airlines, United Airlines, Copa, and Delta, among others, are arriving full of passengers who have the Dominican Republic as the preferred country to enjoy the rest period.
According to preliminary data, the leading airlines that operate regular and additional flights to and from the Dominican Republic maintain an occupancy factor between 90 and 95% of their seats for the current summer vacation season.
It was also observed that the flights arriving and departing the country this Friday are leaving with a considerable occupancy factor, mainly those coming from cities in the United States and the European continent.
Meanwhile, at the airport, in front of the airline counters, a considerable number of people were waiting in line to make their reservations for scheduled flights.
Meanwhile, the institutions that offer services to travelers in the terminal, such as the personnel of the General Directorate of Immigration and Customs, set up unique tables for the quick check of tourists, among which there are entire families, especially French and Spanish.
Vacationers are heading to Boca Chica, Juan Dolio, La Romana, Punta Cana, Bavaro, and other tourist areas, as confirmed by the representatives of the operating and hotel companies, where more than 80% of the tourists will stay.