The vice president assumes functions and government agenda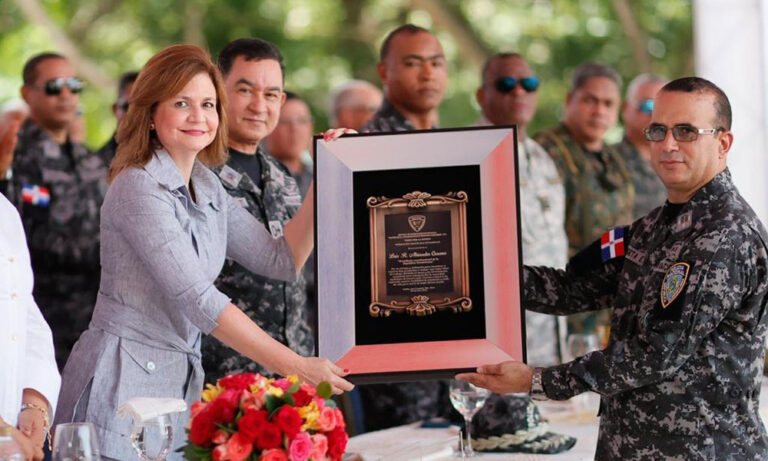 Santo Domingo.- Following President Luis Abinader's isolation due to a Covid-19 diagnosis, Vice President Raquel Peña has taken on the responsibilities and agenda of the government. Her first tasks included delivering 500 apartments in Santo Domingo Norte and conducting the swearing-in ceremony for 900 new police officers. Yesterday at noon, Vice President Peña, representing President Abinader, together with the Minister of Housing and Buildings, Carlos Bonilla, inaugurated the third phase of the "Mi Vivienda Ciudad Modelo" project. This stage consisted of 500 newly built apartments, completing a total of 1,260 units delivered within this housing project.
Spanning over 123,000 square meters, the "Mi Vivienda Ciudad Modelo" project will eventually comprise 1,760 apartment units, including 1,496 three-bedroom homes and 264 two-bedroom homes. The complex also features a playground, basketball court, parking facilities, and an extensive green area spanning 15,784 square meters. With a total investment of 4.565 billion pesos, "Mi Vivienda Ciudad Modelo" positively impacts the local economy and the construction sector in Santo Domingo Norte, having already generated over 3,900 direct and indirect jobs.
During the event, Vice President Peña emphasized that the "Mi Vivienda" plan is a concrete demonstration of the government's commitment to fulfilling the constitutional mandate of providing every Dominican citizen with decent housing. It also represents a significant achievement in the government's primary objective of improving the quality of life for all Dominicans. Minister Bonilla, in the same setting, highlighted that the delivery of these 500 apartments brought the total number of new homes delivered under this administration to over 4,000.
"Mi Vivienda Ciudad Modelo" is part of the "Mi Vivienda" housing plan announced by the central government, which includes the construction of over 7,400 apartments distributed between Santiago and Santo Domingo. In addition to the Ciudad Modelo project, the Ministry of Housing and Buildings is developing housing projects in Hato Nuevo, San Luis, and two more in the northern region.
Earlier in the day, Vice President Peña presided over the graduation ceremony of 903 new police officers in Hatillo, San Cristóbal. These officers belong to promotions 138, President Antonio Guzmán Fernández; 139, Major General Crescencio Jáquez Hernández; and 140, General Cristóbal Morales. The officers underwent comprehensive training in subjects such as human rights, constitutional law, criminal procedure, and the organic law of the National Police. They also received instruction in patrol operations, riot control, police intervention, use of force protocols, and personal defense.