Canceled from the Metro march to the National Palace, but they are not received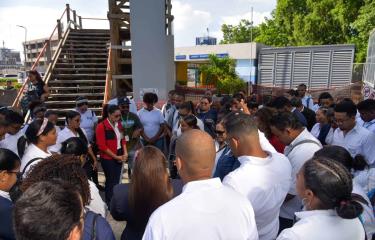 Santo Domingo.- A group of drivers from the Santo Domingo Metro, who were recently terminated by the Office for the Reordering of Transportation (Opret), staged a march to the National Palace to demand the payment of their benefits. However, they were not received by the authorities.
The demonstrators began their march from the Juan Pablo Duarte station on Jhon F. Kennedy Avenue, heading towards the government house. Despite their efforts, they were informed that they could only be received if they were accompanied by a representative who had official clearance. Although a young woman with the necessary credentials was present, they were still denied entry.
The protest not only focused on the demand for payment of benefits but also aimed to raise concerns about ongoing terminations. According to Luis Miguel Peña, one of the dismissed drivers, more colleagues have been recently terminated, with 47 operators being let go just last Friday, bringing the total to 122.
Peña stated that the compensation they have been offered only includes a portion of unused vacation days and double salary, which will be paid by the end of the year. Additionally, the drivers are being coerced into signing a document that ensures the director of Opret, Rafael Santos Pérez, cannot be sued in Dominican courts.
The drivers argue that the media reports suggesting their terminations were due to deficiencies or sanctions are false, as none of them have received any penalties. Their protest is solely directed at their workplace situation, and they emphasize that none of them have been absent from their duties.