UPDATE: Universidad Central del Este reveals cause of explosion in its chemistry laboratory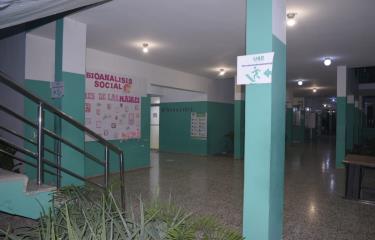 In a press release on Tuesday, the Universidad Central del Este (UCE) provided details regarding the cause of the explosion that occurred in its chemistry laboratory. The incident resulted in 14 students sustaining injuries, fortunately, none of them serious.
According to the UCE, the explosion was caused by a gas leak while the students and the teacher were in the process of concluding their experiment. This information was confirmed by the teacher, as stated by the UCE.
The injured individuals, all of whom were students, were promptly transferred to the UCE Cancer Center, which is affiliated with the university. Alejandro Santana, the director of the UCE Medical Center, reported that they received 13 students. Eight of them had lacerations, while the remaining six had minor injuries.
Santana further explained, "We had to provide sutures for six of them, but the injuries were minimal, requiring only one or two sutures." He assured that the care provided to the affected students was of the highest standard.
The press release did not mention the need for the teacher to seek treatment at another healthcare facility. However, it was stated that the teacher is in good health and has been discharged accordingly.