Today's weather: Fairly warm temperatures and isolated showers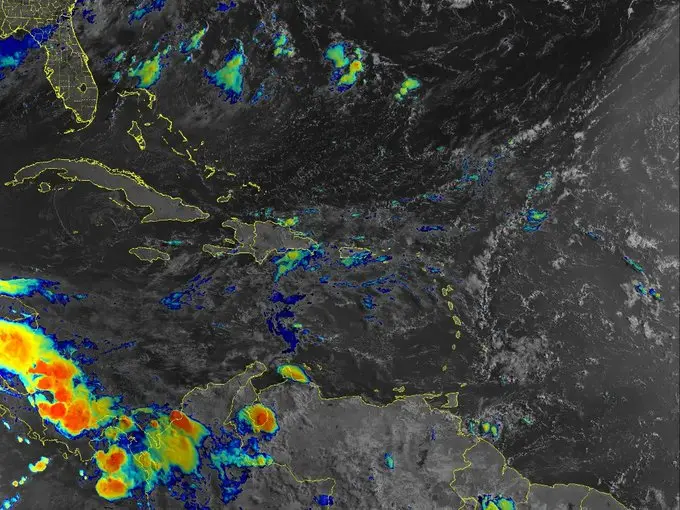 For today, moisture will be entering our territory, which will interact with the effects of a trough that continues over the country, generating isolated showers during the morning towards provinces such as San Pedro de Macoris, La Altagracia, La Romana, and Greater Santo Domingo, as reported by the National Meteorological Office.
In addition, ONAMET indicated that in the afternoon until the early hours of the night, other cloud increases associated with the afternoon heat are also likely to cause isolated showers, thundershowers, and possible wind gusts over Greater Santo Domingo, Monte Plata, Hato Mayor, Peravia, Azua, San Juan, Elías Piña and Barahona.
"In the rest of our territory, it will remain quite clear and warm; in addition, a sky with an opaque and hazy aspect will be observed due to the concentration of dust coming from the Sahara over our air mass," the office explained in its weather report.
Watch for the downpour zone.
ONAMET is monitoring an area of downpours and thunderstorms over the eastern tropical Atlantic associated with a tropical wave located about 1,600 kilometers from the Lesser Antilles, which has an average probability of 30% to develop into a tropical cyclone in the next 48 hours.
Meanwhile, DON is downgraded again to a tropical storm about 565 kilometers southeast of Cape Race, Newfoundland. It has 100 km/h winds and moves north at about 26 km/h. Due to its position and displacement, this weather system does not threaten the Dominican Republic.
Weather for the beginning of the week
Monday and Tuesday, moisture will continue to enter our territory, generating isolated showers in the morning hours over provinces in the east and southeast of the country. At the same time, in the afternoon until early evening, other cloud increases will be observed accompanied by scattered showers and isolated thundershowers in provinces such as El Seibo Hato Mayor, Monte Plata, Sanchez Ramirez, La Vega, Monseñor Nouel, San Cristobal, Azua, San Juan, Dajabon, Elias Piña, Santiago Rodriguez, Barahona, Independencia, among others. Our territory will remain with little rainfall and a relatively warm and transparent atmosphere. Likewise, the sky will remain opaque and hazy due to dust from the Sahara.