Public Ministry accuses deputy Gregorio Domínguez of aggression against a foreigner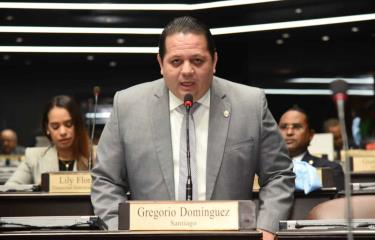 Santo Domingo.- The Public Ministry has accused Deputy Gregorio Domínguez Domínguez, a member of the Modern Revolutionary Party (PRM) in Santiago, of violence against women in relation to a US citizen named Anabella Starnes. The indictment alleges that the attack against Starnes occurred on May 12, 2021, in Puerto Plata, where she and her husband were allegedly assaulted by the legislator and a group of men.
The Public Ministry requests the opening of a trial against the deputy, charging him with violating articles 309, 309-1, 309-3, sections BCEF, which punish violence against women in all its forms, and article 310 of the Dominican Penal Code.
In response to the accusations, the defendant's defense lawyer, Valentín Medrano, has denounced them as false and claims that they are based on testimonies that are either biased or purchased. He points out that Deputy Domínguez Domínguez was found not guilty in a previous trial in October 2022 in the Second Criminal Chamber of the Supreme Court of Justice (SCJ) on charges of illegal execution of an eviction.
Medrano criticizes the lack of objectivity in the Public Ministry, claiming that they are trying to portray the persecution of members of the government party. He questions why the Public Ministry doesn't focus on investigating those allegedly involved in significant acts of corruption.
The Public Ministry, on the other hand, states that it possesses testimonial, documentary, audiovisual, and illustrative evidence for the case. They claim to have testimonies, various documentary evidence, and a USB stick with images and videos related to the incident involving Anabella Starnes.