Dominican Republic registers temperatures close to 40 °C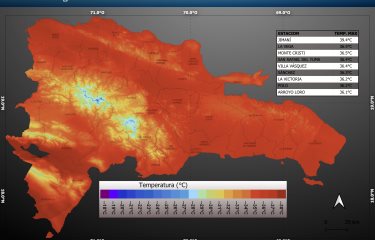 Santo Domingo.- The Dominican Republic is experiencing high temperatures, with the Jimaní municipality in the Independencia province recording the highest temperature so far this month, reaching 39.4 °C last Thursday, August 3. Other areas such as Montecristi, Santiago Rodríguez, and Villa Vásquez have also experienced high temperatures during the week.
The National Meteorological Office (Onamet) has described August as one of the hottest months of the year. The northern region of the country is expected to continue experiencing high temperatures between 34 to 38 °C, with potential temperatures above 39 °C in urban areas of the northwest line.
To cope with the heat, Onamet recommends adequate hydration, wearing light-colored clothing, and avoiding direct exposure to sunlight for prolonged periods, especially between 11:00 a.m. and 4:00 p.m. It's important for residents and visitors to take necessary precautions to stay safe and healthy during these hot conditions.