Guyana delegation highlights technological innovations and efficient operational management of 9-1-1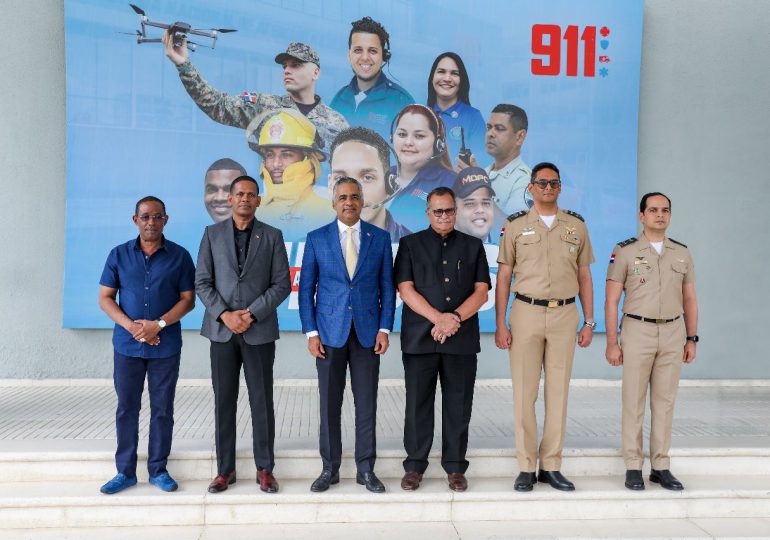 Santo Domingo.- With the aim of enhancing regional cooperation in security and emergency response, the National System of Emergency Response and Security 9-1-1 welcomed a delegation from the Cooperative Republic of Guyana to its headquarters in Santo Domingo. The visit was attended by the Minister of the Presidency, Joel Santos Echavarría.
The executive director of the 9-1-1 System, Colonel Randolfo Rijo Gómez, provided the international delegation, which included the Chief of Staff of the Guyana Defense Force, Omar Khan; Police Force Commissioner Clifton Hicken; and National Security Adviser Captain Gerald Gouveia, with an overview of the entity's operational model.
During the visit, the guests were given a comprehensive understanding of the coordinated operational procedures of the institution. They toured areas such as Call Reception, Emergency Dispatch, Video Surveillance, and the Remote Manned Aircraft Division (drones) to witness firsthand the technological innovations in use. They also observed the effective management model employed to address critical situations faced by the Dominican population.
Accompanying the delegation were Lieutenant Colonel Harold Jiménez Polanco, ERD, Deputy Director of the 9-1-1 System, and Luis Ferrand, Director of Operations. The exchange aimed to foster greater collaboration and knowledge-sharing in the fields of security and emergency response between the Dominican Republic and Guyana.