Vaguada affects some areas of the country; four provinces on alert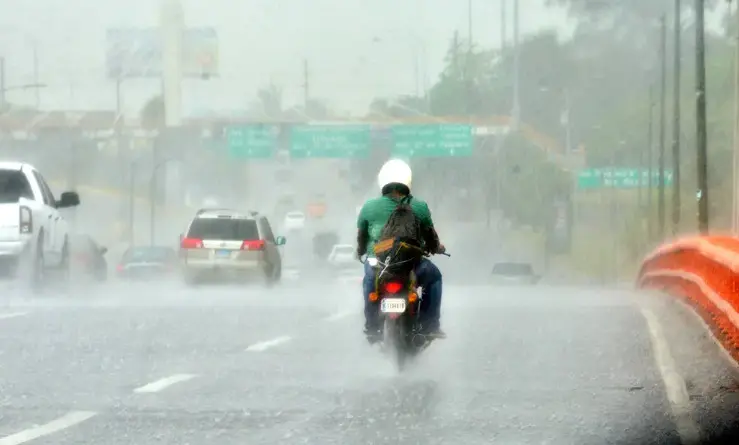 Santo Domingo.- The rains left by a trough on Saturday afternoon have caused the Emergency Operations Center (COE) to place two provinces on yellow alert, along with the National District, and two others on green alert, as the rainfall could cause possible flooding of rivers, streams and creeks, as well as flash or urban flooding.
The agency detailed that three demarcations are in yellow alert along with the National District are Santo Domingo and San Cristobal; while in green are Monte Plata and San Pedro de Macoris.
For this Sunday, according to the National Meteorological Office (Onamet), "it is forecast from early morning downpour and thundershowers activities in localities of: Hato Mayor, Samaná, María Trinidad Sánchez, Duarte, Espaillat and Puerto Plata, as a result of the wind bringing humidity and the incidence of the trough at altitude, which will be until the early hours of the morning. Meanwhile, in the afternoon and evening, there will be clouds with scattered showers, thundershowers at times and possible wind gusts, mainly in Hato Mayor, Monte Plata, Sanchez Ramirez, Duarte, Maria Trinidad Sanchez, Monseñor Nouel, Dajabón, Elías Piña and San Juan. In the other areas, the sky will be opaque due to dust particles coming from the Sahara".
On Monday, Onamet reported, no significant changes in weather conditions are expected over the country, due to the fact that the trough will leave the forecast area and Saharan dust particles will begin to arrive, providing good weather in most of the provinces with hazy skies, There will only be cloud increases with some showers and isolated thundershowers, mainly over Monte Plata, Sánchez Ramírez, Hato Mayor, Duarte, Monseñor Nouel, Monte Cristi, Dajabón, Santiago Rodríguez, Santiago, Elías Piña, San Juan and Independencia.