President Abinader launches re-nomination in a political scenario full of challenges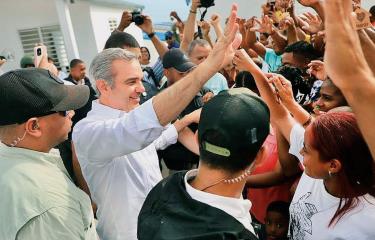 Santo Domingo.- After President Luis Abinader's announcement that he will seek re-nomination, he is anticipated to encounter a challenging political landscape. Internal primaries and an extensive electoral process await him, with his main adversaries considering a joint opposition pact.
The upcoming struggle to retain the presidential seat will not be straightforward, given the opposition's plans for unity in certain election aspects, aiming to force a second round in the presidential elections. Within his own party, the Modern Revolutionary Party (PRM), Abinader will face Delia Josefina Ortiz, Guido Gómez Mazara, and Ramón Alburquerque.
While this three-way contest might not impact Abinader's political ambitions, it could potentially harm his image depending on the tone and attacks launched during the campaign. Both Mazara and Alburquerque have criticized Abinader's government during his tenure.
Abinader's challenge also includes the municipal elections on February 18, 2024. With five months to reorganize his team from mid-October to February, he must carefully select the best candidates for the internal contest. The municipal elections are considered an important factor for both the opposition and the ruling party in shaping the outcome of the presidential elections.
In this political landscape, two prominent figures stand out: Leonel Fernández, presidential candidate of the People's Force (FP), and Abel Martínez, representing the Dominican Liberation Party (PLD). The possibility of an agreement between the PLD and FP poses a significant threat to Abinader's control over the National Palace.
Abinader's decision to seek re-election has received mixed reactions. While some acknowledge his right to do so, there are calls for him to take a leave of absence from his presidential duties to avoid any conflict of interest during the campaign. Abel Martínez, a rival candidate, sees the announcement as an opportunity to challenge Abinader's governance record. The People's Force is set to analyze the decision further and assess its implications.