Public Health monitors the new variant of COVID-19, EG.5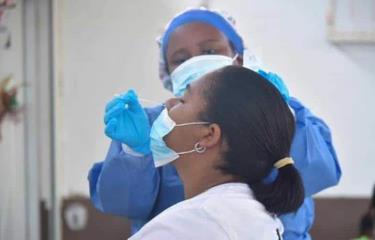 Santo Domingo.- Health authorities in the Dominican Republic are closely monitoring the EG.5 variant of COVID-19, which has been designated as a variant of interest (VOI) by the World Health Organization (WHO). This subvariant of omicron (XBB.1.9.2) was initially identified in February and has shown increased prevalence from July to August. Although there is no scientific evidence suggesting EG.5 poses a greater health risk than other variants, health officials are closely monitoring its characteristics.
EG.5, also known as Eris, has shown growth advantages and immunological escape characteristics. It was initially under supervision (VUM) and has transitioned to a VOI. While there have been concurrent increases in the proportion of EG.5, there is no reported increase in disease severity or associations between the variant and hospitalizations for COVID-19.
At epidemiological week 29, the prevalence of EG.5 was 17.4%, a significant increase from four weeks prior when it was 7.6%. The variant has been detected in 51 countries, with most cases coming from China, followed by the United States, Republic of Korea, Japan, Canada, Australia, and other countries.
While the EG.5 variant has not been identified in the Dominican Republic yet, the Ministry of Public Health is actively monitoring and conducting sequencing tests to detect any emerging variants. The head of the Epidemiology Directorate, Ronald Skewes, assured that the country has the capacity to identify any variant that arises. Skewes urged the public to continue practicing hygiene measures such as hand washing and isolating individuals with flu symptoms, while reassuring them that the situation is being closely monitored.