Fires continue to punish the disaster zone in San Cristóbal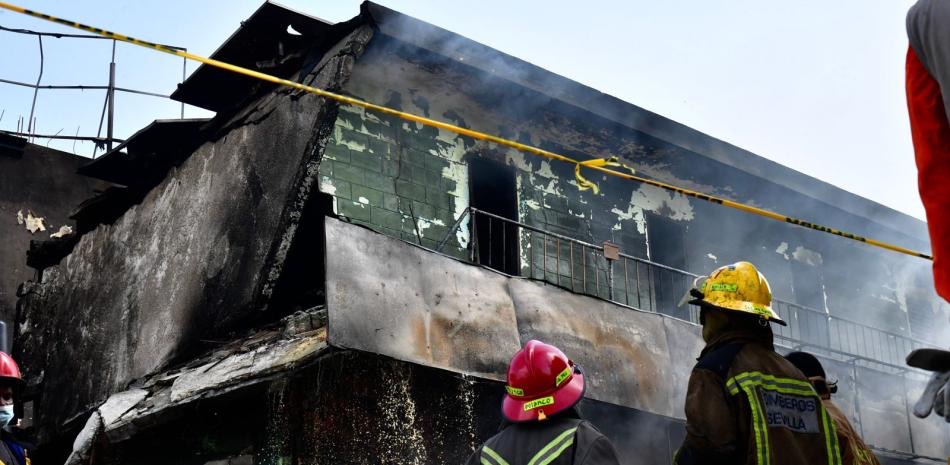 San Cristobal.- In the second bulletin released by the Emergency Operations Center (COE), it was specified that there are currently four active sources of fire in the downtown San Cristóbal area, known as the ground zero. A Unified Command Post, comprising various institutions including firefighters, the Army, the National Emergency System, COE, and Civil Defense, is actively working to extinguish these outbreaks.
General Juan Manuel Méndez, the director of the entity, provided details on the situation. He indicated that a total of 9 buildings have been affected, with 4 of them being partially destroyed. The COE has confirmed that at least 59 individuals have sustained injuries.
In relation to casualties, 11 individuals have been identified as deceased, while 10 people remain unaccounted for. General Méndez explained that the National Institute of Forensic Sciences (Inacif) is currently working to identify the bodies. Due to the state of decomposition, it is challenging to determine whether one or more bodies are involved.
For those searching for missing relatives, the recommendation is to visit the Homicide Department of the National Police to file a report. Two firefighters who were working at the scene this morning have been affected and are receiving assistance. Additionally, two individuals are admitted to the Juan Pablo Pina Hospital, with one of them being in serious condition in the Intensive Care Unit.
The authorities have refrained from specifying the cause of the explosion at this time. Their immediate focus is on saving lives, after which they will investigate the causes and legal responsibilities associated with property owners.
At the Ney Arias Lora Hospital, Dr. Eddy Bruno Vizcaíno, the director of the burn area, reported that eight patients with second-degree and superficial burns have been admitted since Monday night. The patients' ages range from 29 to 67 years, and they were affected by the explosion in a commercial area of San Cristóbal.
Dr. Bruno provided further details about the patients, mentioning that they have varying degrees of body surface burns, ranging from 13% to 40% affected. He emphasized the importance of age in burn treatment, pointing out that one patient is 67 years old. However, he expressed confidence in their recovery, as all the patients are in stable condition.
Dr. Bruno concluded that the patients' current health status is stable and manageable, providing hope for their recovery without complications.