American Chamber of Commerce receives Global Entry authorities to discuss the implementation of this initiative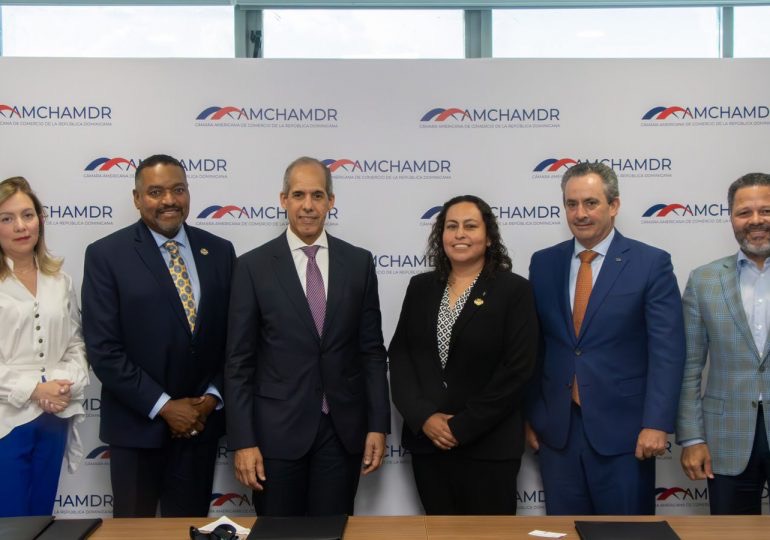 Santo Domingo.- Representatives from the American Chamber of Commerce of the Dominican Republic (AMCHAMDR), led by Edwin De los Santos and William Malamud, President and Executive Vice President respectively, welcomed a delegation from the US Customs and Border Protection (CBP) office. The CBP is responsible for the Global Entry initiative in the Dominican Republic, an effort aimed at facilitating eligible Dominicans' easy access to the United States.
The AMCHAMDR delegation, including Council of Directors members Maria Waleska Álvarez (Vice President) and Eduardo Cruz, expressed their full willingness to collaborate with CBP for the implementation and development of the program in the country. The meeting at the AMCHAMDR's facilities also involved discussions about the upcoming steps and the advantages of the Global Entry program for the Dominican Republic.
The delegation attending the meeting included Jennifer De La O, Deputy Assistant Commissioner of the Office of Field Operations (ADEAC), Rafael Henry, Chief of the Trusted Traveler Program Office at ADEAC, Amina Akbary, Special Assistant at ADEAC, and Xander Gelabert, CBP Officer at the US Embassy in Santo Domingo.
Describing the initiative as a vote of confidence in the Dominican government's capabilities, AMCHAMDR's President, Edwin De los Santos, emphasized that Global Entry will reduce immigration time and enhance the travel experience. This will be especially beneficial for frequent business travelers, marking a significant milestone for the Dominican Republic.
De los Santos stated, "It's an initiative we've supported for years and marks a significant milestone for the country. The implementation of Global Entry in the Dominican Republic is an important step for frequent passengers, entrepreneurs, and the general public, helping to minimize immigration time. We believe that Dominicans will benefit greatly from this important initiative."
Through Global Entry, Dominican citizens with visas can apply for entry online and easily access inspection kiosks at US airports, avoiding long lines and expediting the entry process. Those who meet the requirements will become trusted travelers, enjoying facilities that facilitate smoother entry into the United States.
This achievement positions the Dominican Republic as the 16th country to join Global Entry and the sixth in Latin America and the Caribbean. The announcement was made by Foreign Minister Roberto Álvarez, who highlighted that this milestone was possible thanks to the government's collaboration and the Customs director's efforts in integrating the required databases for program participation.