Weather conditions for this Sunday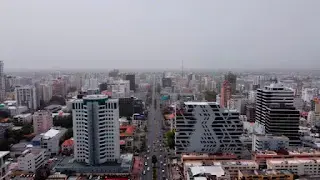 For today, Sunday, weather conditions will not present significant changes in the occurrence of precipitation almost nationwide due to a reduction in moisture content and the incidence of Saharan dust particles that cause the sky to show a grayish appearance, reported the National Meteorological Office.
However, Onamet specified that the incidence of the predominant wind from the east/northeast, which transports cloudiness towards our territory, produces that since morning hours, passing and isolated showers will be present over the regions: northeast, east, Cibao Valley, and the Central Cordillera, especially the provinces: La Altagracia, El Seibo, Hato Mayor, Samana, Maria Trinidad Sanchez, Espaillat.
Weather conditions for this Sunday
The weather office added that during the afternoon, rainfall would be in the form of downpours with thundershowers over towns such as Greater Santo Domingo, San Pedro de Macoris, Monte Plata, San Cristobal, San Jose de Ocoa, La Vega, Monseñor Nouel, San Juan, Elias Pina, and Dajabon, among others nearby.
Maritime conditions remain adverse in a sector of the Atlantic coast, from Cabo Engaño (La Altagracia) to Cabo Francés Viejo (María Trinidad Sánchez). Operators of fragile and small boats are advised to remain in port. However, in the rest of the Atlantic and Caribbean coast, they can carry out their operations cautiously near the coastal perimeter without venturing offshore due to wind and abnormal waves.