Connection emerges: Assistant of political figure amongst those investigated for the explosion in San Cristobal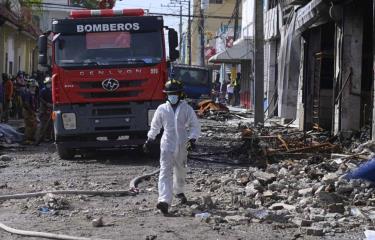 Edward Armando Vidal, who is associated with Vidal Plast, the company involved in the explosion incident in San Cristóbal, has come into the spotlight. The explosion, reportedly ignited by a spark, occurred in the heart of San Cristóbal. Interestingly, Vidal is also listed as an employee of the Social Policy Cabinet, where he holds the position of "executive assistant in the coordinator's office" under Francisco Antonio (Tony) Peña Guaba. Vidal is currently under investigation by the Public Ministry for his alleged role in the tragedy, which resulted in the tragic loss of 32 lives.
San Cristóbal's mayor, José Montás, recently identified Edward Vidal as the owner of Vidal Plast. Additionally, the National Industrial Property Office (Onapi) website indicates that Mrs. Maribel Sandoval Almánzar de Vidal is listed as the manager of the business.
The Attorney General's Office issued a press release on Friday, quoting statements from San Cristóbal's chief prosecutor, Fadulia Rosa Rubio. In the release, Rubio explained that meticulous investigative protocols are being followed in the case concerning the explosion at the Vidal Plast facility. The same release noted that the Public Ministry possesses substantial evidence implicating those responsible for the incident, attributing their actions to the loss of numerous lives and significant financial damages.
Diario Libre attempted to contact Tony Peña Guaba for a response to the ongoing investigation into Edward Vidal, but these efforts were unsuccessful.
Notably, the Attorney General's Office also disclosed on Friday that they possess evidence indicating that Vidal Plast experienced a prior fire incident in March. This fire was reportedly caused by the interaction between sparks and chemicals. Curiously, despite being fully aware of the high operational risks, those accountable for Vidal Plast did not take any corrective actions in response to the fire incident.
Please note that the rewritten version is a paraphrased summary of the original article, aimed at conveying the core information in a more concise manner.