Franklin would get stronger before reaching the Dominican Republic ; warn of significant flooding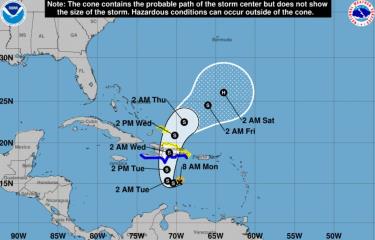 Santo Domingo.- Tropical Storm Franklin is steadily advancing towards the Dominican Republic, maintaining a speed of 19 kilometers per hour. As of 8:00 AM today, its center was positioned 380 kilometers south of Santo Domingo.
The latest bulletin from the United States National Hurricane Center, issued at 8:00 AM this Monday, projects that Franklin's center is anticipated to make landfall along the southern coast of the island of Hispaniola (encompassing the Dominican Republic and Haiti) on Tuesday night. The storm's maximum sustained winds are currently near 85 kilometers per hour, accompanied by more potent gusts. The forecast suggests that Franklin will undergo some strengthening before reaching Hispaniola.
The National Hurricane Center underscores the likelihood of heavy rains affecting portions of Puerto Rico and the island of Hispaniola. These intense rainfall patterns pose the risk of flash and urban flooding, as well as river flooding and landslides. The potential for "significant and life-threatening flash flooding" is emphasized, spanning from Tuesday to Wednesday.
The National Meteorological Office (Onamet) has also indicated that Tropical Storm Franklin is set to make direct impact on the national territory starting this Tuesday. Over the next three days, the phenomenon is predicted to bring about substantial downpours, electrical storms, and strong winds. Onamet forecaster David Chacón highlighted that while the entire country will be impacted, the greatest accumulation of rainfall is expected in the southwestern region, particularly areas like Barahona and Pedernales. Accumulations of up to 300 millimeters of rain are projected.
Concerning maritime conditions, the National Hurricane Center cautions that a storm surge could elevate water levels by 1 to 3 feet above ground level along the immediate coast near and to the east of where the storm's center makes landfall on Hispaniola. Onamet has advised operators of delicate and small vessels to remain in port, spanning from Isla Saona (La Altagracia) to Cabo Francés Viejo (María Trinidad Sánchez), as well as from Isla Saona to the city of Pedernales on the Caribbean coast due to heightened wind and abnormal waves.
Franklin's current trajectory involves a westward movement at around 12 miles per hour. A shift towards a west-to-west-northwest path is anticipated to persist today, followed by a sharp northward turn tonight or early Tuesday. Ultimately, a general northward motion is projected for Tuesday. Based on this trajectory, the National Hurricane Center anticipates Franklin's center reaching the southern coast of Hispaniola on Tuesday night.