Ravines of Greater Santo Domingo littered with trash as Franklin leaves torrential downpours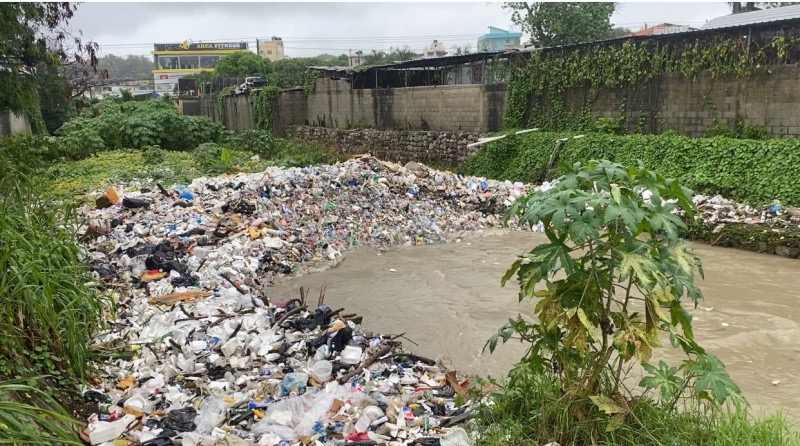 Santo Domingo.- The flooding across Greater Santo Domingo, caused by Tropical Storm Franklin, is causing concern among the population. However, the primary reason for water overflows in ravines and streets is not solely heavy rains; the accumulation of solid waste, dozens of items, is clogging filters and exacerbating the situation. This was evident during a survey of several ravines, including the one at Las 800 in Los Ríos, where the pavement was obscured by a buildup of garbage.
During the early hours of Wednesday, residents of Las 800 were already closely monitoring the flow of the ravine due to its history of causing tragedies. Before the expected heavy showers at 8:00 in the morning, members of the Civil Defense and the Red Cross were present, removing debris. At 11:04 in the morning, the situation escalated into despair for some families.
After community efforts and assistance from relief agencies, the water overflow was eventually resolved. However, the community remains vigilant for any potential future issues. Currently, teams from the National Emergency System (911), Civil Defense, Red Cross, and the National District Council (ADN) are in the affected areas, identifying hazardous spots to aid city residents.
Similar concerns arose in the Guajímia ravine in Santo Domingo Oeste, where a plastic barrier impeded the canal's operation. Residents, like José del Villar, pointed out that the responsibility for addressing this issue lies with the Santo Domingo Oeste City Council, as they've yet to address the situation despite being aware of it. Del Villar noted that the council's inaction increases the risk for families who might be adversely affected.