The announcement of the Opposition Alliance for the rescue of the Dominican Republic shakes social networks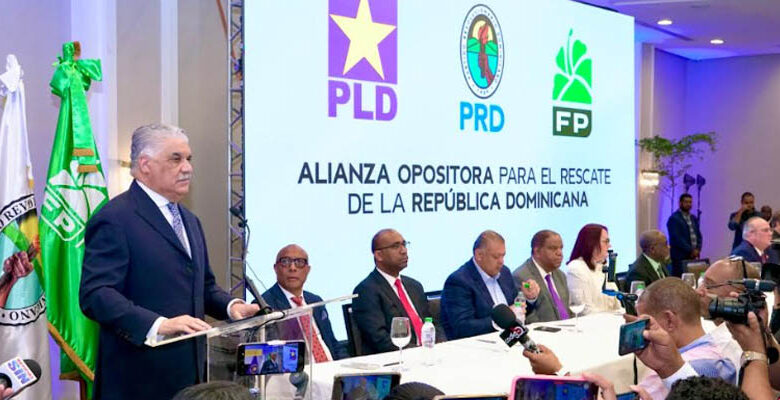 Santo Domingo.- Following the announcement by the Dominican Liberation Party (PLD), the Dominican Revolutionary Party (PRD), and the People's Force (FP) about their agreement to form the Opposition Alliance for the rescue of the Dominican Republic in preparation for the 2024 elections, social media platforms have been buzzing with activity.
On these communication channels, many have expressed their enthusiasm for the prospect of removing the Modern Revolutionary Party (PRM) from power. However, there are also those who have utilized social networks to voice their dissatisfaction, asserting that some see the new alliance as a regrouping of "enemies of democracy."
The most prominent social network discussing this announcement is the one adorned with the little blue bird turned into an X. A trend analysis indicates that #RescateRD (Rescue RD) has emerged as a major trend in the Dominican Republic, alongside posts related to Miguel Vargas, which number over 2,100, as well as PLD and Fuerza del Pueblo, with more than 1,191 posts at the time of analysis.
Among these posts, those emanating from the official accounts of the respective political parties, as well as media outlets acting as spokespersons for the new alliance, stand out. Additionally, reactions from various personalities have contributed to the discourse.
Tweets announcing the alliance are accompanied by those from netizens who support this pact. For instance, @JuyoeliD expressed, "Since the PRM has failed, we say #SeVan (They're leaving) because they deceived us." However, there are also those who reject this party alliance, such as @ValeriaMendox1, who believes that regardless of any alliances, the PLD will forever be tainted by its history of corruption, with figures like Leonel, Danilo, and Abel unable to erase the dark past that continues to haunt them.