Santo Domingo showed its shortcomings with the rains from storm Franklin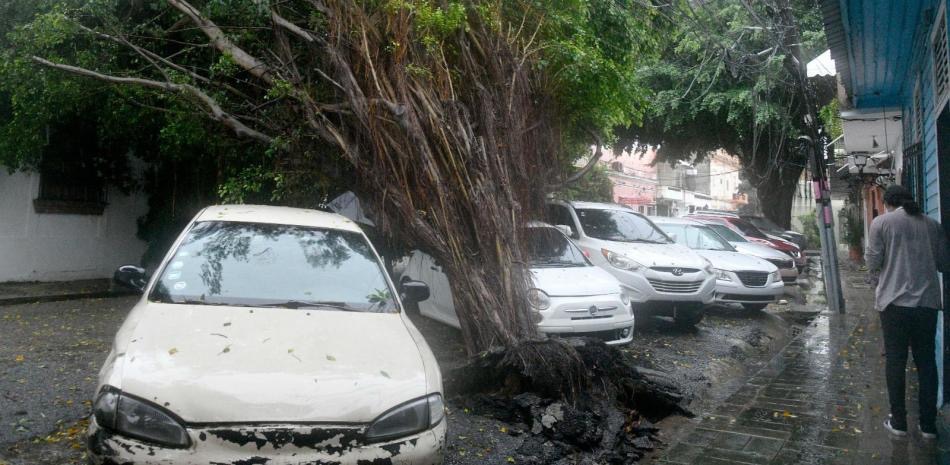 Santo Domingo.- The passage of tropical storm Franklin through the Dominican Republic has left hundreds of houses affected, streets flooded, trees uprooted, electrical circuits disrupted, material losses, and residents forced to seek refuge in safer areas. The aftermath of the storm has been marked by these impactful consequences across the country.
In response to the looming danger, the government ordered citizens in the National District and Santo Domingo Este to remain indoors and cancel outdoor activities. Despite the order, some individuals disregarded caution, venturing out to enjoy the rain or even partake in clandestine gatherings and parties, showing a reckless attitude towards the threat posed by the storm.
Cristo Rey, a district in the National District, witnessed a notable number of individuals, primarily adolescents and young adults, taking to the streets on motor vehicles and pasolas, engaging in races and other activities. In some parts of the neighborhood, unsupervised children treated large puddles as makeshift pools. Even in Cristo Park, children continued to use mechanical rides despite the heavy rainfall.
The municipality of Santo Domingo Este also faced its challenges, with sectors waking up surrounded by garbage and grappling with the aftermath of the storm. Mayor Manuel Jiménez ordered the closure of Avenida Barceló due to the fall of an electric power pole, highlighting the impact of the storm on infrastructure.
In neighborhoods such as Cancino Adentro, Los Mina, Villa Faro, Las Américas, and Charles de Gaulle avenue, scattered debris carried by the wind and standing water further added to the aftermath. Covered garbage accumulations were also observed at corners, awaiting pickup by garbage trucks.
Despite the storm's disruption and the closure of most businesses following the provisions of the Emergency Operations Center (COE), some small businesses, including grocery stores, butcher shops, and rubber stores, remained open. This resilience among certain business owners reflected their determination to continue operations amidst the challenging conditions.
As the country grapples with the aftermath of tropical storm Franklin, the Dominican Republic remains focused on recovery and restoration efforts, highlighting the resilience of its people in the face of adversity.