Communities of Greater Santo Domingo still under water from storm Franklin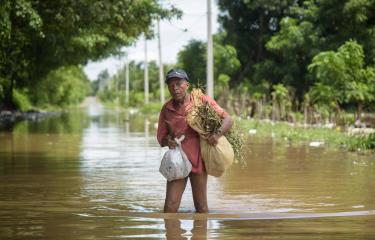 Concerned about potential worsening conditions, residents of communities in Santo Domingo Norte and Monte Plata are facing isolation due to overflowing bridges, sewers, roads, and agricultural properties. While few houses were initially flooded, the continuous rise of water from upper river basins like Ozama, Tosa, and Brujuelas has caused flooding downstream, days after heavy rainfall.
Approximately 10,000 people residing near La Victoria and the Monte Plata border are facing the challenge of long journeys between the two regions due to river overflow. Communities such as Los Roja, el Ocho, el Siete, El Aguacate, Mata Mamón, Santana, Reventón, and La Ceiba are affected.
Despite minor incidents caused by the storm, residents are left stranded as the water invades their homes when rivers recede. Calls for infrastructure improvements, particularly the construction of bridges, have gone unanswered for years, leaving residents in these isolated areas vulnerable.
In the vicinity of Hacienda Estrella and Las Luisa Blanca, communities in Monte Plata are cut off due to impassable roads submerged by the overflowed Ozama River and San Mateo stream. Agricultural items have been swept away, and fears persist of further increases in water flow.
The Guarícano sector's La Mina neighborhood in Santo Domingo Norte experienced flooding from Storm Franklin's rains. Despite efforts by locals and some authorities, the neighborhood has been grappling with water accumulation for years. Affected houses reveal wet belongings, while the storm's aftermath is evident in hanging shoes, clothes, and mud-laden roads.
Residents in other areas like Guerra are keeping a watchful eye on the rising Brujuelas underground river, anticipating potential overflow based on past experiences. Although no casualties were reported in the visited communities, Civil Defense and local authorities are working to assess the situation in isolated areas.