Localities isolated for a week in Santo Domingo Norte region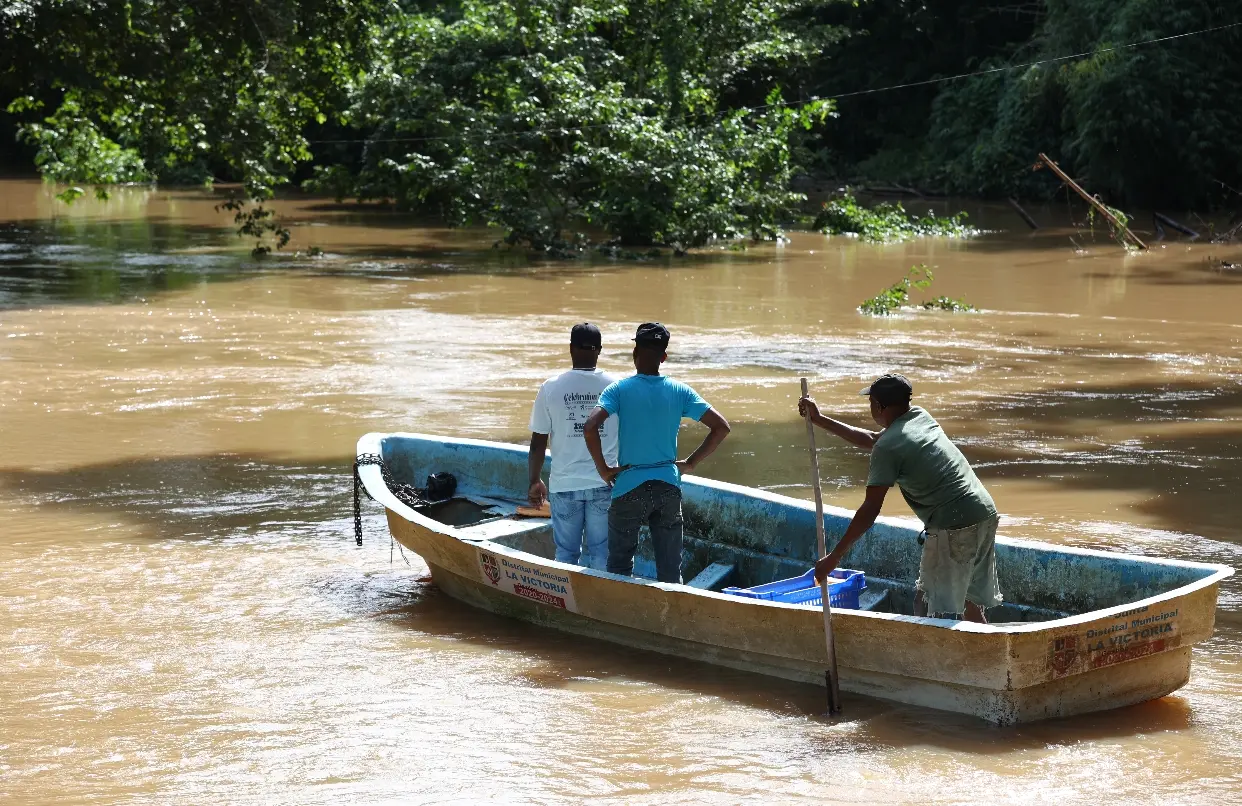 Localities in the municipal district of La Víctoria, in Santo Domingo Norte, and others in the province of Monte Plata are cut off from communication due to the overflowing of the Cabón River as a result of the rains left by storm Franklin as it passed through the Dominican territory.
Dozens of families in the communities of Chirino, in Monte Plata, Rancho Arriba, and Cabón, in La Víctoria, have been disconnected from Los Mercedes, La Ceiba, Los Castillo, and Reventón for days due to the overflowing of the river.
The passage of this river is a few meters from the entrance of the Ozama Wetlands National Park, which has the Manatí Lagoon, which is also abandoned with a tough access road.
Those with some urgency and the most desperate opt to take a boat to go out for food.
School year and crops in danger
Zulema Martínez recalls that next week the school year starts, so she assures that the students would not be able to cross the tributary since sometimes it takes up to weeks to return to normal, so that the opening would be traumatic for the schoolchildren in the area.
Likewise, quintals of cocoa, coffee, squash, coconuts, avocados, and other agricultural products produced in Rancho Arriba, Cabón, and other communities cannot be taken to the markets because the river's overflowing does not allow it.
Luis Beltrán and Segundo Martínez arrived from Villa Mella at the place where the boat docks in La Ceiba; they got in and paddled across the river because they urgently needed to get to Rancho Arriba, where they have their families.
But the other crossing of the Cabón, where those who live in Chirino, Monte Plata, cross the river, is worse since the water covers kilometers.
On this side, not even in a boat do people dare to cross because there is no solid ground in the distance, and the existing speed bump is wholly covered.
Domingo Beltrán crossed in a rowboat because he lived in the community of Cabón and had nothing to feed his family.
He urged the Ministry of Public Works and President Luis Abinader to build a higher bridge so that these communities are not cut off whenever it rains.
Thus, the life of these impoverished communities has been affected by the storm that left them isolated, without food, with the uncertainty of losing their crops, and the fact that the school year cannot be used due to the lack of communication with the school—a serious drama.